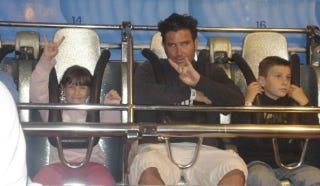 On the day that the two men charged with savagely attacking Bryan Stow outside Dodger Stadium in April pleaded not guilty — and officials announced the woman who drove them away from the scene won't be charged — Stow's family posted an uplifting update on their website. Here's part of it:
Yesterday we got the most response from Bry to date. He lifted his left leg slightly when asked, he raised his left arm everytime we asked if we could hold his hand, and the best part? Bonnie asked Bryan if she could have a kiss and every time she asked him, he puckered his lips. The final time when she was leaving, Bonnie asked again for a kiss. Bry turned his head towards her, puckered his lips for the kiss, then turned his head back. The nurse was shocked and excited to see that!
That level of mental responsiveness is good news. Here's hoping he continues improving.
Don't Stop Believing [Support4BryanStow]