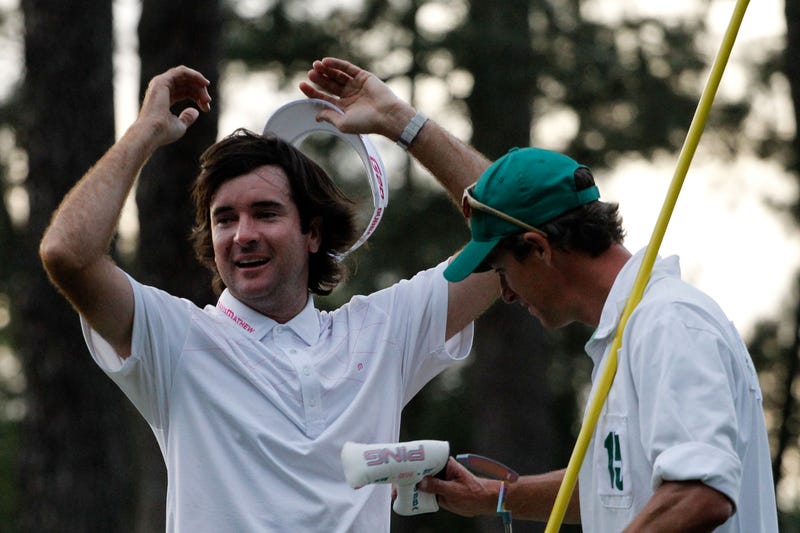 Every morning, the fine folks at Sports Radio Interviews sift through the a.m. drive-time chatter to bring you the best interviews with coaches, players, and personalities across the sports landscape. Today: Bubba Golf is like regular golf, only Bubba-er.
Bubba Watson joined The Dan Patrick Show to talk about how it felt when the green jacket was slipped on him on Sunday, how tough it was to stay in the moment during the final round at Augusta, whether his caddy just steps out of the way at times during tournaments, how often he practices the shot he hit on hole 10 to win the tournament, what scene he would like from the Masters on the cover of Sports Illustrated, and whether this win will change who he is at all.
How it felt when the green jacket was finally slipped on him Sunday:
"Just excitement, pleasure, honored, blessed, and all those words combined into one, whatever word that would make up. It's just crazy. It's just crazy to have your dreams as a kid and actually pull it off and actually be the guy who won it, it's just unbelievable."
How tough it was for him to stay in the moment during the final round at Augusta:
"It was tough. We're human so a lot of things go through our heads. You want to hit great shots, you want to hit great putts, you want to start talking about how you're going to give your acceptance speech and you want to start doing all that stuff and you forget to play golf. I had to talk to myself. I had my head down talking to myself knowing that I'm still in it even though I bogeyed number 12. I birdied the next four holes and that gave me a shot at winning so I had to keep talking to myself and my caddy kept talking to me saying 'you're still in it, keep your head down, keep going, keep going,' so a lot of talking to and I guess that's weird to talk to myself but that is what you have to do."
If his caddy steps out of the way at big points of tournaments:
"On certain shots he does. He lets me just do my work. He didn't even bother me when I putted on 14 or when I putted on 16, I hit the shot on 17 over the trees and the recovery shot on 10, where I ended up winning on the playoff hole. He always says when we get to the golf course, he goes look, 'this is your canvas use your paint brushes and just paint the picture.' He lets me do my work, use my creativity, and when it comes to shots like that, tough shots or crazy shots he always just steps back and watches like a fan. He knows something crazy could happen so you can feel it, you know it, and he understands it too. When you get in the moment he kind of just backs away and lets me do my job."
How often he practices the shot that he hit on hole number 10 to win the tournament:
"When I'm practicing and when I'm goofing around and at home, I love those shots. I don't practice them. I just play golf and I love to play golf so when I'm at home and those shots come up I just love the challenge of trying to execute them. As a kid growing up in Pensacola, Florida just outside the Tanglewood Golf and Country Club, it has some big trees, some old pine trees where we had to hit shots like that, it's probably the tightest golf course that I have played so I'm used to those shots and I'm used to hitting it in the rough. I don't hit the fairway that much."
Whether he plans on changing his game a bit so he can hit it more straight:
"This is who I am. You're right I don't know any other way. I can hit straight shots when I need to but obviously in my mind the easiest shot in golf is going to be the curve because like if it's a putt, a ten foot putt that is dead straight you're like 'I can't hit this putt dead straight when I have to.' For me it's easier in my mind to hit curves and like Jack Nicklaus said, on Augusta you want to aim it at the center of the green so you get the ball moving towards the hole. That's how he played the course and that's how I tried to play it too. But that's how I try to play every course though."
What photo he would like to see on the next cover of Sports Illustrated:
"I would want the scene after the putt where all my friends and some fellow golfers stayed around. My mom was there, my team was there, Aaron Baddeley's family was there and his little kids, and I would love that because they were there representing me and they were there showing me love and honor and it was a special time."
What this win means for him and whether it will change him:
"It just means I have a green jacket now. It doesn't change me as a person, me as a golfer, I'm not going to get a swing change or anything like that. I'm going to be Bubba, the same Bubba, still play Bubba golf, and hopefully have many more wins to come. (Host: No posse's, no entourage or anything like that?) I have my team, I have my trainer that is with me everywhere I go, I have my caddy, I have my beautiful wife, and I added one more, I added a son to the group."
This post, written by Chris Fedor, appears courtesy of Sports Radio Interviews. For the complete highlights of the interview, as well as audio, click here.
More from Sports Radio Interviews
• Flyers-Penguins won't be another fightstravaganza.
• Darren Sharper doesn't believe Saints players should be punished.
• The Grizzlies just keep winning.