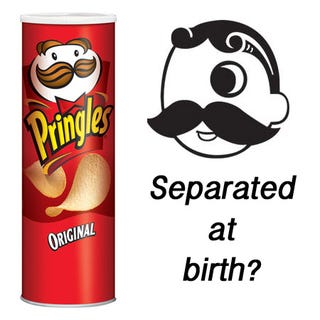 By anyone's estimation, Frederic J. Baur lived a full life. The organic chemist and food storage technician lived to the ripe old age of 89. He and his wife had two sons and four grandchildren. But chief among his accomplishments, he thought, was his design of the Pringles can. That's why, come checkout time, Baur chose to have some of his remains buried inside one of the iconic cylinders.
His children honored his request. Part of his remains was buried in a Pringles can - along with a regular urn containing the rest - in his grave at Arlington Memorial Gardens in Springfield Township.
Later in his career, Dr. Baur became a compliance specialist for P&G. "He had a worldwide reputation in plant sanitation and traveled all over the world inspecting plants," said his daughter, Linda L. Baur, of Diamondhead, Miss. He also lectured, edited books, and wrote several publications and articles.

But the Pringles can - a tube-shaped container designed to hold the salty, stackable, saddle-shaped chip - was his proudest accomplishment, his daughter said. He received a patent for the package as well as the method of packaging Pringles in 1970.
I'll rest easy knowing he's somewhere with all the other greats of snack container design, like... the guy who made Bubble Tape and, uh, the inventor of the beer helmet. Couch potatoes the world round will give you a two fistful salute.
That's enough being menaced by the Gawker servers for me for one weekend. Enjoy all the no sports on tonight!