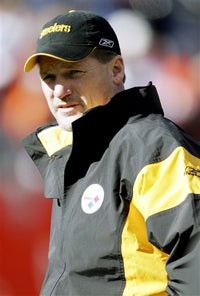 Despite initial rumors that had them hiring (ugh) Mike Sherman, Our Buzzsaw That Is The Arizona Cardinals have hired Steelers offensive coordinator Ken Whisenhunt to be their new head coach. The Buzzsaw players can barely contain their excitement.
"Great, good to have a coach," defensive end Bertrand Berry said when he heard about the hiring. "That's about all I can say. I don't know much about him. I'm sure I'll find out in the next little bit of time."
Yeah, go get 'em. You might question why an up-and-coming coach like Whisenhunt would want to take the ultimate dead end sports coaching job, but remember: Last year, he was a finalist for the Oakland Raiders position. So he's probably just happy to be alive.
Cardinals To Hire Whisenhunt [Arizona Republic]