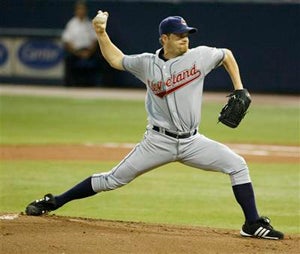 Behold the leg kick, the high socks, the windmill windup; all he needed was the little stubby-billed cap to make one think that it was Christy Mathewson out there befuddling the Twins.
I've been a fan of the Indians' Paul Byrd ever since that infamous game against the Mariners in April in which Mike Hargrove declared a snow day and robbed him of an abbreviated no-hitter. Well, who's laughing now? Certainly not Hargrove, who spends his afternoons sipping cinnamon lattes with Niles Crane at Cafe Nervosa. On Monday, Byrd Man finally got his shutout — in more conventional fashion — as the Indians beat the Twins 4-0 to split their series. Fun fact: Michael Cuddyer, (The Island of) Justin Morneau and Torii Hunter (Nos. 4-6 in the Twins order) were a combined 1-for-10; 3-for-31 for the series. Travis Hafner homered in the seventh for Cleveland. The great Elmer Flick posthumously approves.
• The Ballad Of John And Yoko. Barry taking broadsides now, sustaining heavy damage as he closes in on sole possession of the homer record. On Monday he goes 0-for-3 against the National's John Lannan, as we also learn that Tom Glavine's 300th win clearly beat Barry's 755th homer in the TV ratings on Sunday. Also, Giants broadcaster Ted Robinson points out that, with all the fuss over Bud Selig attending Bonds' games, we forget the fact that Giants' president Peter McGowan didn't even see fit to attend any of the Giants' games in Los Angeles when Bonds was at 754. Oh, Giants 3, Nationals 2, in 11 innings.
• If You Haven't Got A Schilling Then A Haypenny Will Do. OK, on to happier news. No, wait ... sorry. This first. Curt Schilling returned from the DL and didn't do well, giving up a homer to Maicer Izturis in the seventh that led to the Angels' 4-2 win over the Red Sox. Your Chone Figgins update: Drove in Jeff Mathis with a sacrifice fly to provide the insurance run.
• From The Home Office In St. Louis, Missouri. The Cardinals tied a major league record with 10 straight hits in a 10-run fifth inning — pitcher Braden Looper and Aaron Miles had two apiece — in a 10-5 win over the Padres. (Ed. Note: Bryan Leitch enjoyed this game on his 58th birthday. He was also ecstatic we published the Natural Light picture yesterday. Really.)
• My Grandfather Loves To Zip Around On His New Marco Scutaro. Mike Piazza — remember him? — singled in the go-ahead run in the 13th as the Athletics beat the Rangers 9-7. Marco Scutaro had a grand slam for Oakland, who lost a 7-0 lead. In a feat of Little League dimensions, seven Okaland pitchers combined for 21 strikeouts.