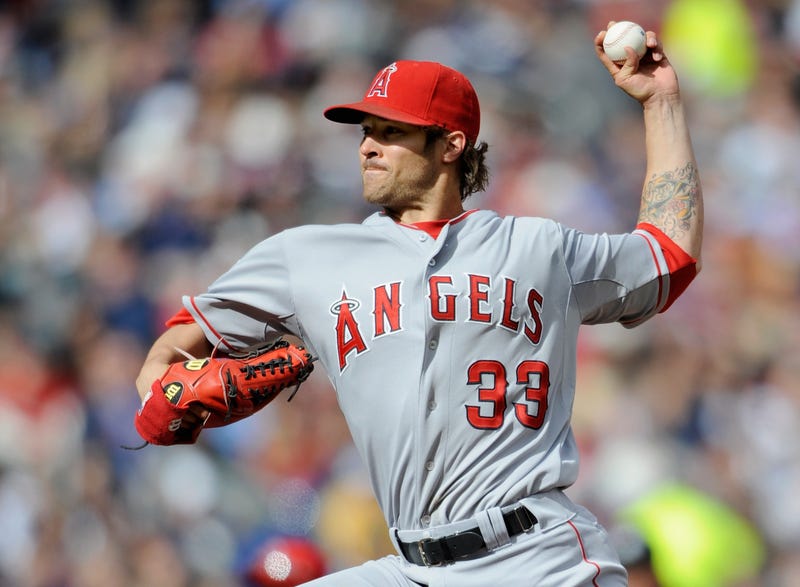 Every morning, the fine folks at Sports Radio Interviews sift through the a.m. drive-time chatter to bring you the best interviews with coaches, players, and personalities across the sports landscape. Today: Wilson says Texas can spend their money any way they want, but they shouldn't string him along.
C.J. Wilson joined The Dan Patrick Show to discuss what he thinks is the most unfriendly ballpark to pitchers, the Texas Rangers bypassing him and using all their money on Yu Darvish, pranking Mike Napoli by releasing his cell phone number and the crowd reaction when he faces the Texas Rangers for the first time on the road.
Which is the most unfriendly ballpark to pitchers?
"Unfriendly to pitchers? Cincinnati is pretty hitter friendly. I would probably say there. Cincinnati or Yankees Stadium maybe down the lines is pretty short, so there's a lot of home runs that go out that maybe would be outs in other places."
Did you feel slighted that the Texas Rangers used all that money on Yu Darvish and not you?
"No not really. They are entitled to do whatever they want. It's their money. I just…the only thing I was to get upset about was that they kept saying 'Oh hey we are going to make an offer. We are going to come at you or whatever and they didn't.' It kind of wasted my time, which I feel like especially in the off-season my time is invaluable because the longer the off-season the more fun things I can do. If I was able to make a decision in early November then that would have been a lot easier for me. They dragged it out a month making me think they were going to make an offer, but the fact that they didn't is no big deal. The fact that they paid so much money for Darvish and it's their prerogative. They can spend that money anyway they want."
Explain Mike Napoli's cell phone number being released. Was that meant to be a prank or was it an accident?
"Well it was a prank of course. I thought the part that was supposed to be funny was that I made it look like I was giving him my phone number, so everybody that would call him would be like 'Hey C.J. and then he's like this isn't C.J.! This is Mike Napoli!' People would be like oh my gosh it's Mike Napoli, which is kind of funny when you think about it, but nobody liked it besides me and my friends and my teammates and people on the Rangers didn't think it was very funny, so whatever. Sometimes you take a risk like that and you risk some sort of negative backlash or whatever, but I'm not an expert level prankster. I'm just a guy that likes to throw pranks once and awhile. I learned my lesson. You can only prank people with a sense of humor, I guess."
How do you think the homecoming against the Texas Rangers will be?
"You know I could have gone to any team and it would still be the same. A lot of people were like oh you went to the Angels? I am from LA, so where else would I rather go?"
This post, written by Steven Cuce, appears courtesy of Sports Radio Interviews. For the complete highlights of the interview, as well as audio, click here.
More from Sports Radio Interviews
• Matt Ryan doesn't care if the Falcons do Hard Knocks.
• Tony Romo is ready to take the next step. Again.
• Russell Westbrook says the Thunder can beat anyone.