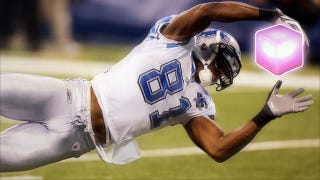 Welcome to week four. Where men are made. After this week, we'll know for sure whether all these teams who could possibly win the Super Bowl will be in a position to possibly win the Super Bowl. Jump on in and discuss it all below.
Detroit at Dallas (FOX): The two quarterbacks featured here are in the process of re-writing the narrative of their respective careers. Until everyone decides the re-written narrative won't be the narrative anymore.
Carolina at Chicago (FOX): Speaking of narratives, Ron Rivera comes back to Soldier Field for the first time since coordinating the defense during Chicago's 2006 Super Bowl run. But-get this-he's coming back as a head coach. Of a football team. In the NFL! Wild stuff.
Buffalo at Cincinnati (CBS): So, the Bills are the only undefeated team in the AFC. The sky is still blue and the grass still green though, so I don't really know what to tell you about that.
Tennessee at Cleveland (CBS): Kenny Britt is out for the season and Chris Johnson seems like he's been out for the season. Luckily for Titans fans, they can head to Nashville for a "good grilled chicken sandwich without the bread" to ease the pain.
Minnesota at Kansas City (FOX): This is going to be one of those games that gets Kansas City fans excited about Matt Cassel again. And then they will remember that, for like the last decade, Minnesota has been so good against the run that teams just give up and throw the ball 50 times and pile up huge numbers through the air. Bummer.
Washington at St. Louis (FOX):"The Red Hulk's craaazy. Craaaaaaaaazy." Here's a question: How do they determine how many extra letters to use in a quote like that? It is a direct quote, after all.
New Orleans at Jacksonville (FOX): Here's another quote from a person presumably paid to write about football: "The Jags will need some breaks and they'll need to create momentum-changing points, producing plays on defense and special teams. If they do those things they have a chance." You heard him, Jags. Do that stuff.
Pittsburgh at Houston (CBS): Fictional Character Associated With The Region Game Simulator returns this week with an appropriately-timed match up. This week it is the Pirates vs. the Astros. As two of the more well known depictions of a professional baseball organization, these "teams" have posed the most curious case yet. They tied each of the 10,000 simulations and thus FCAWRGS was unable to declare a winner.
San Francisco at Philadelphia (FOX): San Francisco decided to stay in Ohio this week following their 13-8 victory over the Bengals, rather than fly home only to fly back to Pittsburgh shortly thereafter. You can expect that to be a major theme in the broadcast, regardless of the score. Either they'll be winning and it will have served as a bonding experience, or they'll be losing and the time away from home will have thrown off their routine. Oh, and Vick is back. Over-under on him getting through the entire game? 75%. Odds people yell at me for not knowing how over-under works? 10.
What You're Watching
Via The 506. CBS:
FOX (Late Games Included):
Please Rise for The (Taserless) National Anthem