It's noon in Tucson, Ariz., and Abdi Abdirahman is making a spot of tea. The Black Cactus (having correctly ascertained that what distance running needs is more cowbell and monikers) is part way through an easy day. So, 12 miles, done. He's chill, he's happy, he's confident. What the hell's the matter with him?
The guy just turned 38, the cold wind of middle age rattling his bones. Since 2012, when he DNFed the Olympic marathon, he's struggled with injuries. His marathon best of 2:08:56, set in 2006, is now six minutes off the world record, and his 10,000 meter PR of 27:16.99, posted in 2008, is practically pedestrian by the world mark of 26:17.53. Doesn't he know it's time to get worried, double down, flail from one program to another, panic…
Uhhhhh, no. Anxiety does not exist in Abdi's world. Like a desert-heated yoga studio of positivity, Abdi has created a unique biosphere that's allowed him to skim across the knife-edge of elite level fitness for more than 18 years, even as it deflects the doubt and negativity that races through competitive athletics like the flu. For example, in Abdi's world, if you drag ass into the midtown Hilton NYC, day before the race, after a delayed flight and all that walking through the airport and cab ride and whatnot, and you're kinda knackered, you don't drop your stuff and head out for a jog like all your type A competitors, looking at their watches, nervous-like. Nope. You head upstairs for a nap. The run may happen later. Or not at all. Unusual as it is, Abdi's world is undeniably working for him.
Landing in Arizona from Somalia at the age of 12, he didn't start running until the advanced age of 19, while attending Pima Community College. Though he was successful at the community college level, University of Arizona coach Dave Murray took a gamble in offering the 31-minute 10K guy a full scholarship. It paid off. He won the PAC-10 5,000 meter championship twice and the 10,000 once. He's made four Olympic teams (three times at 10,000 meters, once in the marathon) and has been on twelve other World track and cross country teams. In Abdi's specialties—10,000 meters and marathon—the build-up is so long and demanding, there's really only one, maybe two, shots at qualifying for the trials. Making even one Olympic team is therefore a feat of timing and injury prevention as much as fitness. Four Olympics? It's only been done once before by a distance runner. Now, Abdi's gearing up for his fifth Olympic cycle, something no other US athlete has even been in a position to attempt. How has he managed this, all the while maintaining a ten-below-relaxed attitude and a lively social life? That's what we talked about by phone.
First, you've had the same coach, Dave Murray, since college—18 years. That's pretty unusual. Have you ever thought about switching coaches, as many athletes do?
G/O Media may get a commission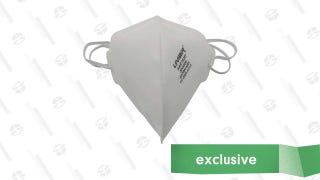 NIOSH CDC-Certified N95 Masks (10-Pack)
Not really. For me, I always feel comfortable training in Arizona. One thing I learned: Life is a roller coaster, up and down. When things are not going well, some runners want to change coaches. That thought never crossed my mind. Me and him, I look at him as a life coach, a mentor and a friend. He's always there for me. If things aren't going well, we have a conversation. Some athletes, if their running is not going well, they want to fix the problem right away. The quickest way to fix things is to leave their coach. It works sometimes, but for a lot of them, the new program doesn't work out. My coach has retired from Arizona [in 2002]; he has no other athletes except me. I surround myself with good people—Bernard Lagat, Stephen Sambu, James Li [took over as head coach at Arizona]. I'm one of those people, I ask my friends what works for them. Then I tell my coach. I like to bounce ideas off him. I don't recommend young kids try to be the teacher, but I'm a veteran—I feel comfortable asking Coach Murray about different ideas.
You two must know each other very well. What is it about Coach Murray that you really like?
I like everything about him. He's a good coach. When I was a student athlete, I thought he was hard-nosed, but I liked his philosophy. It was about progress, long term. I've always been a low-mileage guy; 70 to 80 miles in college. My first marathon was on 90 miles. My coach knows this. It took many, many years to get to this point, to be able to handle 110, 120 miles. Now I do 100 miles max, and only when training for a marathon. Coach Murray looked at the long term even in college—how long can you do this? How can you not beat up your body? I like the way he treats you. Whenever I get injured, I talk to him. Some coaches will make you do the workout anyhow. He always asks, How is your body feeling? Do you have any aches or pains? At first, I wanted to do the workouts so I wouldn't tell him I wasn't feeling good. In the last year-and-a-half or two years, I tell him how I'm feeling, and we back off the workout or take the day off. Then I'm ready for the next day. It's hard to be honest with your coach. We put a lot of stress on our bodies. At some point you can't get away with it. A little soreness can turn into a big injury: That happened to me and I learned it firsthand.
Is there anything that bugs you about him?
Not really. We hang out; he's a mellow guy. We just talk about running or Arizona basketball. We have a good time. With him, I like him more and more the more we hang out. I wasn't a big fan of him when I was a student—you know, he was my coach and it was business. Now, we're friends, we can talk about a lot of stuff. My family is in Seattle, so they've become my family. Christmas, Thanksgiving, a lot of holidays, I go over to Coach's. I know his grandkids, his brother, his sister—I've become one of them. It's great to have someone who cares about you that much, rather than just about running.
At this point you must have marathon and 10,000 meter training dialed in. Does Coach Murray still make up your workouts?
Oh yeah, he still makes up my workouts for the week. It makes my life easier, I don't have to think about it.
Does he come to your workouts?
He's there for the tempo and the two interval workouts. The rest I do on my own.
How often do you talk?
Every other day. Yesterday I did a workout and he called this morning and asked how did I feel, to make sure everything was good on my easy run.
Some Nike athletes are encouraged to move to the Portland area to train with Salazar or Schumacher. Did you ever consider this?
It crossed my mind. That's the only way I would have gone to Oregon, to be with Salazar. I'm a real loyal person though. If my coach is still there for me, it's hard to leave.
Secondly, you're a lone cowboy, you don't belong to a training group. Being a very social person, it seems if anyone would like and benefit from a training group, it would be you. Why solo?
I do have a training group; we're just not official. Me, Bernard [Lagat], Stephen Sambu, Lawi Lalang. James Li coaches the others. I've been running with Bernard for twelve years. Sometimes we meet, sometimes we don't. We call ourselves a group but we don't have a name. I do some runs by myself, maybe fifty percent.
Is it difficult to push yourself through a long run or a tempo session on your own?
Yeah, tempo runs are hard. I do those with Stephen. Long runs I can do my myself.
Your laid-back attitude, not obsessing about mileage or diet, is unusual among competitive runners. If you were part of an organized training group, do you think it would be harder to take a day off, or go out for drinks of an evening?
Yeah definitely. For me, a lot of people say, if he would have done this or that, he'd be better. He's not dedicated. He doesn't train hard enough: He doesn't even do 100 miles. If he did 140 miles/week, he'd be better. One time, I tried that. I did 130, 140 miles for two or three weeks. I came out injured. It doesn't work for me. Less miles, high intensity, like Bernard. He only does 70 miles/week, but so fast, all fast. And you know, I made four Olympic teams. That's not easy.
I hear other top distance runners talk about being athletes 24/7. You have a reputation for being an excellent party guest, a friend of the burrito, willing to take a day off. That could be seen as cavalier. Is that reputation legit or exaggerated?
Exaggerated. I don't go out all the time, I don't go out to bars. I do go out once in a while. I love to hang out with my friends. I want to have a life outside running. I don't want to finish running and have regrets because I had no life. I do a lot of different things—I don't think it hurts my performance.
Would you recommend this attitude to young up-and-comers or does it only work for you?
To be honest, it takes a lot of work and discipline, regardless of what it looks like. I work my butt off getting to the starting line healthy. I would recommend taking a day off if you're not feeling good. In the real world, a real job, if you have the flu, you rest and recover.
It's funny to hear you say the real world—like it's somewhere else.
[laughs] Yeah, I have a crazy job where I do two hours of hard work. Other people have a real job where they work hard for eight hours.
Are most of your friends runners or nonrunners?
Mixed. Some bicyclists, football players. My best friend is a professional baseball player. I have diverse friends. Some don't do sports. Runners understand what you're talking about when you have a bad workout. Baseball players, they don't understand. They're amazed that you run that fast and are still disappointed. Shelley Duncan, my friend who's a baseball player, he says, I wish I could run one mile at that pace. And he talks about something other than running, which is good. Bernard gives me lots of good advice and encouragement. Sometimes you need that ego boost, something to make you feel good about yourself. I like to surround myself with people like that.
Having achieved all you have and competed at the top level for more than 16 years, how do you stay motivated?
This is crazy, but I'm motivated more than ever this year. I cannot get out of my head—number five! No distance runner has made five Olympics. Why not me?
Did you wake up today psyched to grind out hot and thirsty miles?
I'll be honest with you, this morning I was tired. I did a workout yesterday and I thought, I wish I could stay here and relax and watch TV all day. But I had a good workout yesterday, and Coach said, "You look good, the best I've seen in a while." That makes me feel real good. You want to continue to improve. If you don't slack off, you'll be even better next workout. That's what motivates me. The first five or ten minutes is hardest for me; after that it's like, let's go get it on.
Describe your day today.
Woke up 6 but it was dark, so I laid in bed til 6:30. Went into the kitchen to make coffee. Watched CNN til 7:30. Went out at 8:30, did 12 miles in 1 hour, 13 minutes. Stretched in my driveway, did some drills and strides til 11. Did some foam roller—gotta keep things loose.
I thought you didn't do foam rollers…
I've been doing it the last year-and-a-half or so.
Does this mean you're gluten free too?
[laughs] No. I don't pay that much attention to diet. I try to eat right…..So, I'll probably take a nap later, for an hour or 45 minutes. Then another six miles at 5 or 5:30. Make dinner. Stretch for 30 or 40 minutes. I'm not a late night person; I've been going to bed for a long time at 9:30 or 10.
What's changed about your training from 2000 to now? Is there a workout or injury prevention exercise you feel is absolutely essential to your success going forward?
I used to do three, almost four workouts per week. Now three at the max, most of the time, two. It used to be a week cycle: Now it's a nine-day cycle. The pace is not as fast in mile repeats but long run and tempo intensity is the same. Mile repeats used to be in 4:20 or 4:25. Now it's 4:40 or 4:30-something. I still do between five and eight mile repeats. Injury prevention? Ice baths. I've been doing that for a while.
Will you be pointing toward both the marathon and the 10,000 in 2016?
Mostly marathon.
And if you don't make the marathon team in January [2016], will you go for the 10,000 at the Trials in June?
I don't think about it. I'm not even thinking about second options.
Will you be doing the US Half Marathon Championships at the end of January?
No, I'm going to Ethiopia then. It's the first time I'll have been back to Africa since I came here. I need a change. I'll go there for five weeks, see how I like it.
You and Ryan Hall.
Yeah, I'll probably see Ryan there.
Bonus random question: You're a huge basketball fan. Why didn't you go out for basketball in college?
I don't know. I tried shooting a little and it didn't go that well. It looked hard to me, basketball. All that dribbling and jumping—how can they control the ball?
Photo credit: Getty Images