Last night, Zion Williamson played his first competitive game in a Duke jersey, opening a preseason road trip the Blue Devils have against some Canadian college teams. The trip opened against Ryerson, and Williamson put on a show.
Williamson went for 29 points last night and did basically everything that would piss off any proper Duke-hating basketball fan, were it not so damn amazing to watch. He was pairing spin moves with crossovers, finishing smooth up-and-unders, and nailing his three-pointers. You can check out his full highlight reel at the bottom of the post, but the good shit, the stuff that really brings that derp face out of an overmatched 7-footer, wasn't some rim-rocking dunk or corner three or nifty dribbling, though there was plenty of all of that from Williamson. The best of what the star forward brings to the game came on two regular-ass rebounds.
Exhibit A:
Exhibit B:

G/O Media may get a commission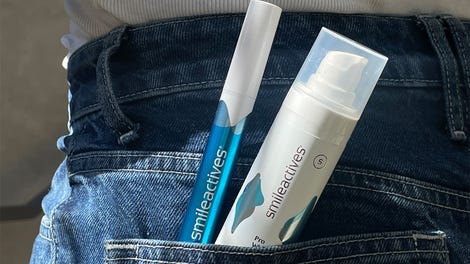 58% off
Whitening Powerhouse Pen & Gel Duo
Yes, Ryerson sucks at boxing out and rebounding. But look at Williamson's positioning on these boards—in both situations, he was not the favorite to end up with the ball in his hands, but got there anyway through sheer physical power. Before the first rebound, he is on the other side of the restricted section from where the ball is headed, but with just a half-step setup, his left hand is above the other side of the rim. He needs almost no major windup to reach a peak that not even his own teammates can come close to matching. There's more athletic power packed into Williamson's 10 toes than there is on some entire Division I rosters.
Combine his leaping ability with his strength and girth and the result, regardless of league, will be brief moments in games when a defender looks at this barrel-chested demigod and decides, "Nah, not trying to have my ribs shattered this play." That's when Zion will do what he does best:
Rebounding and obscene dunks will be Williamson's bread-and-butter all season. If nobody gets a butt on him, he will crash and possibly tear down the backboard. But as you can see in the below reel, Williamson has no problem with the finer points of the game.
Ever since Williamson signed with the Blue Devils, he's dominated the news cycle mainly by just being able to perform absurd physical feats in an absurdly large body. The fact that teammate R.J. Barrett is supposed to be a more complete basketball player hasn't seemed to matter much, partly because Duke gets good recruits every year, but also because Williamson is 285 pounds and can dunk from the free throw line. If this whole three-point thing sticks and he can bring the ball up the court against ACC defenses, I'm not sure what can possibly stand in his way.
What I'm trying to say is the ACC clearly has a new god, and his name is Zion.