Anthony Galea was charged today in connection with smuggling HGH into the country, and three star witnesses are unnamed NFL players. When their names invariably come out, will the witch hunt begin?
The complaint against Galea contains three government witnesses, all current NFL players. One got HGH from him; a second didn't take his HGH "knowingly;" a third received a non-FDA approved substance. I'd give it, oh, 'til the end of the year before we know the identities of all three.
The government has a pristine track record when it comes to keeping confidentiality in steroid matters, as you know. Otherwise we wouldn't have any details of the BALCO case, or any of the 104 names from the 2003 baseline testing.
It's kind of sad that we're relying on the sieve-like secrecy of the government to shame football's steroid users. But that's the truth. The media's not interested in exposing it; Brian Cushing's positive test didn't come out for 8 months. And the players aren't interested in self-policing, not when, according to Earnest Graham, 30 percent of players are on HGH.
But when those names do come out, you can bet certain self-righteous media members will be beating the drum for league-wide investigation and reform. Peter King and Rick Reilly will wring their hands, as Skip Bayless rails against modernity. And then, after a bit, it'll quietly go away. Because, as much as everyone would like to have you believe they care, no one really cares.
G/O Media may get a commission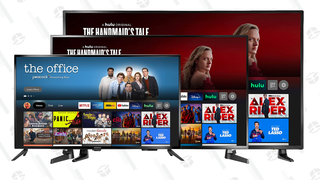 Up to 44% off
Prime Early Access - Insignia Fire TVs
Toronto doctor with ties to athletes charged in Buffalo [Buffalo News]