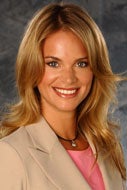 Obviously, these Media Approval Rating things seem to be extremely popular with many readers far and wide over the vast ball-filled spectrum of the wild and woody sports blogosphere.
The good fellas at Food Court Lunch do have a point, though, when they lament the startling lack of Canadians in many of these polls: "Where are the Canadians? We Canadians have no fucking clue who most of these media people are. We don't get ESPN. We get TSN. We get Sportsnet. We get the Score."
So, they've proceeded with their own version of Media Approval Ratings, and have really made it interesting when it comes to their first entrant, TSN SportsCentre (fancy!) anchor Jennifer Hedger. As you'll soon find out, even though she's only garnering 89% of the vote at FCL, we're sure she'd do much better here.
Here's a clip from Hedger's first foray into Canadian television, as a member of what we assume is the Canadian version of "Big Brother" called "The Lofters." Enjoy.
She seems friendly.
Media Approval Ratings (Canadian Edition): Jennifer Hedger [Food Court Lunch]