Capitals fans: Now that you're down a game to the eighth-seeded Leafs, in a series that was just supposed to be a warm-up for the real opportunities to choke, how're those sphincters? Are they so desperately clenched that not even a molecule can pass through, giving you that familiar tummy ache of despair? Or have you lost all control of it and are just spraying your waste everywhere, much the same as you fear your team might metaphorically do?

Let's check in:
Hm, that seems correct.
(Things got a little calmer later on, presumably as the numbing effects of alcohol took over.)
G/O Media may get a commission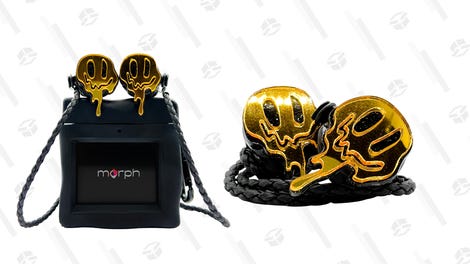 morph audio
Morph Earphones
Caps-Leafs is a remarkable matchup of franchises with baggage and fanbases with complexes, but they are not the same. Washington fans are used to being promised something good and having it yanked away. Toronto fans know never to expect anything good. (Please remember that the only time in the last 14 years the Leafs were here, it ended like this.)
But this was supposed to be clean. Leafs fans, never particularly known for moderation, seemed to understand that this team is going to be insanely good within a couple years, but they're not there yet. This was to be playoff seasoning for a young roster, but the Presidents' Trophy-winning Caps were just too talented to hope for anything more than a good, tough series.
"This isn't pressure," Nazem Kadri said Monday night. "This is fun for us."
Well, after three overtime games, and Tyler Bozak's tip-in winner last night, we're definitely not where we thought we'd be.
The Leafs are not the better team thus far in this series, but nearly as miraculously, they are absolutely hanging with the Caps. The shots and scoring chances slightly favor Washington, but only slightly. Considering playoff series can be crapshoots even before games go to overtime, the Leafs can absolutely win this thing by playing as they have, and they wouldn't even need particularly great luck to do so.
We are getting ahead of ourselves. Two games to one is an insurmountable deficit only if the series was spiritually insurmountable before it started, which, maybe. The Caps are still the better team, and for whatever it's worth, they are still favored by Vegas in this series (though they have ceded their spot as Cup favorites to the Penguins).
But man, we've been here before. Not that all these players have, and not that past disappointment necessarily has any influence on future results. But there's a hint of self-fulfillment with this. Even if the players do not know or care about the Caps' track record for coming up short in the postseason, they are inevitably asked about it, which can lead to thinking about it, which can potentially lead to playing tight—the opposite of what the Leafs are doing right now. "I think it's an outside-the-room-driven narrative," said Washington defenseman John Carlson, but by definition, whatever question he was answering had been brought inside the room.
The coverage in D.C. today is every bit as much about the fear of a playoff collapse as it is about the actual hockey being played. (Tom Wilson's dad! Aren't you proud of your son, appearing for the league's best team against his childhood team, in front of friends and family in his hometown? Or are you scared of the Caps shitting the bed like they always do?) This stuff, if even just by osmosis, can become real.
I still like the Caps here, because I'm an idiot, but I'm not so much of an idiot to let two wins make me believe in the Leafs. The Hockey Gods—a useful term for a dramatic narrative applied post-hoc, but not an actual agent of action—have historically denied both these franchises the painlessness of clean ends. We are now beyond the possibility of that. Toronto hopes are up. Washington fears are up. Someone's going to get hurt.