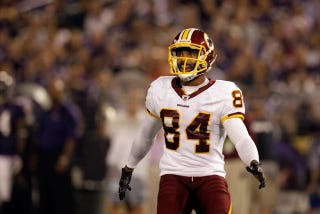 Redskins receiver Niles Paul has an immense love for Capri Sun drinks, and made a habit of bringing them to practice during training camp. But he had a problem. Paul's teammates would snag pouches of his favorite drink when he wasn't looking. A cold-blooded, thirst-fueled crime.
Someone at Capri Sun heard about Paul's troubles, and sent him a new case of drink pouches, accompanied by an elegant solution to his problem. More from Sarah Kogod of D.C. Sports Bog:
The company had removed the straws from every container in the case, rendering them undrinkable to the average drinker. In their place, they provided Paul with a silver straw of his own, complete with his name and number engraved on it. The straw came in its own padded case.

The straw removal was so simple yet so effective. The thirsty teammates were thwarted, and Paul can enjoy his Strawberry Kiwi Capri Suns in peace.
Capri Sun sends Niles Paul a juice security system [D.C. Sports Bog]
Photo via.