What did it feel like, at the very end?
On his end, it sounded a lot like someone coming to terms with terminal illness; you could practically chart the stages of grief. On my end? Less clear. Maybe it was like sending a surly, once-promising teen off to college, well after all bridges have been burned at home and there's nothing left for him to do in town. Now he's on to new pals, new scenery, and, likely, a lot more fun. I'm happy for him.
This not to say that Melo, who dropped a record 62 points in the Garden, was even my favorite Knick during his six-year run. Without even thinking too hard that seat goes to Kristaps Porzingis, the realest glimmer of hope, very distantly followed by Jeremy Lin, the briefest and brightest. How did Melo, the de facto star, handle these two? As for the former, he seemed to play genuine mentor to New York City's large son, despite never being most natural on-court partner, and probably in some ways stunting his development. (Right now I'm trying my best not to read too much into the fact that Porzingis, who is constantly Posting Online, has yet to utter a peep about Anthony's departure.)
As for the latter, he ran Lin out of town. There's a lot you can let Melo off the hook for—most of the Knicks' steady failure during his tenure would be more fairly ascribed to the structural rot of the front office—but this one? That's all on him and his ego. Even a post-Linsanity, terrestrial Lin would have been the most competent point guard Melo saw in his six seasons. But Melo was unhappy to cede any ground to a new phenomenon, unwilling to let the ball out of his sticky hands, and so he drove away that rarest of Knicks happenings—a Good Thing—only to scoff at it later. For that, he was an asshole! There's no varnishing that. I'm not sure what redemption would have looked like after that bout of selfishness, but four straight seasons of missing the playoffs surely wasn't it.
Instead, the best floor general Melo played with was ... late-stage Chauncey Billups? Over-the-hill Jason Kidd? That speaks to how brutal Melo had it in terms of personnel. It also speaks to the peculiar way Melo painted himself into a corner: Though he was worth almost exactly what he was paid, he wasn't worth much more, unlike superstar peers. His fat paycheck prevented his team—but also, the team being run by dipshits prevented the team—from acquiring the complementary talents that might have let him flourish off the ball, unleashing that Olympic Melo that everyone loves to love. Melo was an expensive supporting star wrongly positioned as top dog by no real fault of his own; it was in the nature of things, given the magnitude of his offensive talent and the arbitrary bounds of salary restrictions. By the tail end of Melo's era here, it was difficult to grasp what he was actually worth on the trade market. Obviously Phil Jackson did everything conceivable to depress his trade value—including but not limited to bashing him in interviews, tweeting gnomically, outsourcing further trash-talk to his mouthpiece, and publicly declaring that the team had no use for him—but even accounting for all that, the eventual return was hard to stomach. (That is, unless you're already intent on tanking for Luca Doncic, but in the bone-strewn wasteland of the Eastern Conference, the Knicks may not even be bad enough to grab him.)
To gut the team for Carmelo (who would've been a free agent anyway), get six years of mediocrity, and then ship him off for a handful of trail mix—you can't blame anyone for feeling bitter after that arc. In my most uncharitable moods I'm tempted to position Carmelo Anthony as merely the last and most promising in a long string of offensively skewed, defensively flummoxed, soft and overripe "stars": Stephon Marbury and Steve Francis, Eddy Curry and the rest of Eddy Curry, Amar'e Stoudemire and Andrea Bargnani, Derrick Rose and, well, Carmelo Anthony. Over the past decade MSG has steadily attracted these types like a flaming waste treatment plant drawing the moths. There's always been at least one of them languishing around here to overpay. To me they are the real throughline of the Dolan Knicks. Melo did a little more than the other schlubs, though. With perhaps the only truly lovable Knicks squad of the 21st century, he dragged this team past the first round of the playoffs. He won a scoring title. That's about what he could have reasonably be expected to do alone, and he was always going to be doomed, partly by his own ego and even more so by structures outside his control, to go it alone.
G/O Media may get a commission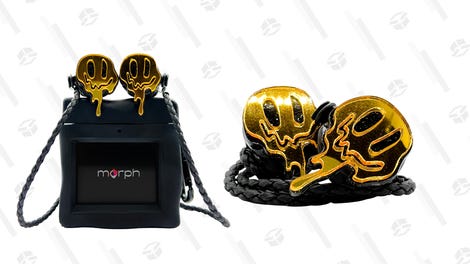 morph audio
Morph Earphones
This season Melo will be asked to do different things, no longer alone, but with a one-man wrecking ball and two-way workhorse by his side. Though perhaps the purest scorer, Melo was the most one-dimensional player of the Banana Boat crew: the most in need of aid, and the very last to get himself on a nominal super-team. (LeBron and CP3 found plenty of different ways to get All-NBA coworkers.) Now he's finally done it. Melo's move to Oklahoma City cannot possibly feel like anything but relief. I hope it does. I also hope he gets a chance affirm to the world that his struggles had more to do with the toxic franchise he left behind than anything else.