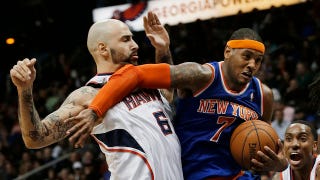 The Atlanta Hawks haven't exactly been a free agent hot spot for NBA stars, and their recent scandal doesn't look like it will help, at least according to Carmelo Anthony:
"[There] ain't nobody [who] would want to go there," Anthony said Saturday at the Citi Carmelo Anthony Basketball camp in Manhattan. "At the end of the day, Atlanta, I think it puts Atlanta back even further now, from that standpoint.

...

"As a player, as an athlete, we're looking for a job, we're trying to find a place where we can move our family, we can make our family comfortable, where we can be comfortable in a comfortable environment," Anthony said. "But those comments right there, we would never look at [playing there].

"I'm speaking on behalf of all athletes. We would never look at a situation like that, I don't care what it is."
Carmelo probably wouldn't be welcome in Atlanta anyway, their scouting reports say his eyesight is a little poor.
[ESPN]
Photo via AP