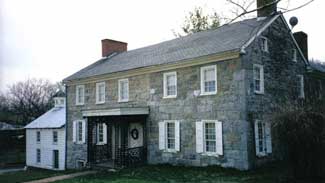 Over the weekend, The Rocky Mountain News told the tale of Carmelo Anthony's new pad in suburban Denver. (Via Slushy Gutter.) The place originally was listed at $17 million, but its price was "slashed" to a far more modest $11.95 million. Some great factoids:
The estate was built in 2002. It includes seven bedrooms, nine bathrooms, a 5,000-bottle wine center, an 11,000-square-foot barn, hand-cut limestone floors, a Brazilian mahogany paneled library, and a cutting edge recording studio.

The finished square footage has been described in various marketing material as ranging from 21,084 square feet to 25,610 square feet.
It also has eight fireplaces. That, friends, is impressive; he's gonna have to hire somebody full time just to keep those things stoked.
Carmelo Moves Into New Crib [Rocky Mountain News]
Melo's Mansion [Slushy Gutter]
(Note: The pictured house is not, in fact, Carmelo's actual mansion. Obviously.)