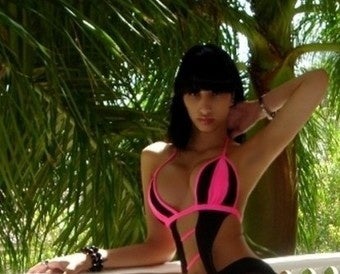 When the Lord's Day began, talk was that Carmelo Anthony issued a $5K "bounty" involving the Slapping of Kat Stacks' "Pigeon Face Ass" overnight. Specifically ...
"I got $5K for whoever see @ihatekatstacks and slap the shit out of her pigeon face ass. Real talk. ..."
Context: Kat Stacks is apparently a whorefamewhore of indiscriminate noteworthiness.
Well, by breakfast, his @carmeloanthony page was down and a whole lotta chatter was going on. You can play catch up with this here link. Yet by lunch, @carmeloanthony's page was back up with this message...
Im back on! My account was hacked. Thanks twitter for getting me str8. Jst finished my first movie in China now im headed back to the States
It all seemed a little hinky, so we tapped Twitter corporate in. The question was "whether you worked with 'carmeloanthony' in reference to a reported hacking, and the extent to which you were able to remedy the situation?"
This afternoon, Twitter sort of answered.
For privacy reasons, we don't share specific details about users or accounts.
Translation: It's still he said/pigeon-face-ass said and Kat Stacks apparently filed a police report against Carmelo today.
I feel emptier for having just typed all this.