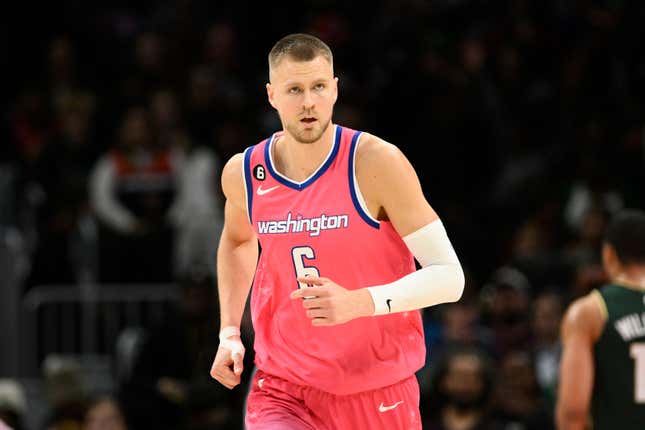 After a disappointing postseason in Boston, the Celtics have completed one of the biggest trades of the 2023 offseason by acquiring Kristaps Porziņģis. All the Celtics had to do was ship out Marcus Smart to get it done. But bringing in Porziņģis doesn't necessarily address Boston's real issue over the past few years, which is the consistent flow of their offense.
Is 60 > 71? Debating Luka Dončić and Donovan Mitchell's record breaking games
FINAL TRADE DETAILS:
Celtics receive: Kristaps Porziņģis, 2023 & 2024 first-round pick
Grizzlies receive: Marcus Smart
Wizards receive: Tyus Jones, 2023 second-round pick

Make no mistake; adding Porziņģis to a lineup with Jayson Tatum and Jaylen Brown should be amazing. After a few rough years dealing with multiple injuries in New York and Dallas, Porziņģis is coming off a bounce-back season in Washington, where he averaged 23.2 points per game (a career-high) and played 65 games. That's the most games Porziņģis has suited up for since his second year (2016-17) in the NBA.
What Porziņģis brings to Boston is another 20-point scorer and a big body inside. The Celtics already had good size, but their existing issue wasn't in the frontcourt. One of Boston's most prominent issues for some time now is not having a true point guard on the court with Tatum and Brown. Smart was good, but he's not a natural PG, and it showed as the Celtics went deeper into the playoffs each year.
Teams with the right personnel and depth, like the Golden State Warriors, and Miami Heat the past two years, were able to take advantage of the Celtics not having a legit floor general on the offensive end. Now the Celtics are seemingly stuck with Malcolm Brogdon, who is a good player but has a serious injury he's dealing with currently. Originally Brogdon was supposed to be involved in the trade that included the Clippers. Los Angeles pulled out because of Brogdon's health status.
So, the Celtics don't really have a PG right now. This trade for Porziņģis might end up being a
great deal, but it doesn't answer their problem in the backcourt. Tatum and Brown are spectacular, but too many times, they are forced to run the offense, and go one-on-one when that shouldn't be the case. A lot of "hero ball" goes on in Boston, and it hasn't produced a title. Brad Stevens could have another move up his sleeve, but if not, it's likely to be more of the same in Beantown.