The Department of Labor is investigating whether the staffing company contracted to work Chargers games has been using unpaid high schoolers as security, ticket takers, and head coach.
This isn't specifically a Chargers problem—unless you consider 16-year-olds in fluorescent windbreakers serving as the only barrier between fans and players a problem—as the investigation concerns contractor Elite Show Services. For at least the past three seasons, Elite has partnered with local high schools to help them volunteer, in exchange for their cheap labor. The students would work as full day at Qualcomm Stadium, as an usher or a parking attendant or whatever, and in exchange Elite would contribute money to the students' volunteer organizations. The only problem is, the going rate was about $40 for a full day's work—about half of California's minimum wage.
(Here is where I tell you the most important thing you'll hear all day. I did this "work-for-volunteer" bit in college, and took tickets at Eagles games. It's fairly prevalent across the NFL, since with only 10 home dates it doesn't make sense to hire anyone full-time for these tasks. Those people scanning and ripping your tickets? Poorly paid teenagers. Don't have a ticket for a big game? Slip the ticket-taker a $20 bill. It's not like he cares if the team gets ripped off.)
Perhaps the worst part of the deal signed between Elite and the San Diego High School Student Body is that the volunteering was mandatory for many athletes and band members—and they'd have to work eight out of 10 home games this season. The SD school district is claiming the Student Body Association didn't have the authority to enter into a contract, and contacted the Department of Labor to see whether the jobs and wages are legal under child labor laws. (Some of those documents, via the Union-Tribune can be seen below.
Elite, for its part, maintains it's done nothing wrong.
"We are currently working with the Department of Labor as it relates to an inquiry and while we anticipate an expeditious and positive outcome, we hope that any information published will fairly and accurately reflect that no determination to date has been made," the statement said.
G/O Media may get a commission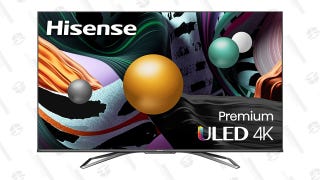 Save $350
Hisense ULED 65" Android 4K HDR Smart TV
It's not the first time the Chargers have received bad press for their connection to Elite. In 2006, Elite received a no-bid, 30-year contract to provide 24-hour security at Qualcomm Stadium. After an uproar, the city decided to rebid the contract. Even though five other companies offered to do the work for less money, officials again selected Elite.)
Child labor violations at Chargers games? [San Diego Union-Tribune]