Every morning, the fine folks at Sports Radio Interviews sift through the a.m. drive-time chatter to bring you the best interviews with coaches, players, and personalities across the sports landscape. Today: everyone's intentionally controversial figure, Charles Barkley.
Barkley joined WIP in Philadelphia with Howard Eskin and Ike Reese to talk about his plans for this Sunday's game between the Redskins and Eagles, why he is planning on wearing a McNabb jersey to the game, whether or not he is a Redskins fans now, why he thinks the Redskins will win this weekend, and whether or not he thinks the fans should cheer or boo McNabb.
On the game this weekend between the Redskins and Eagles:
I can't wait to get to the game Sunday and I wanna personally thank Mr. Daniel Snyder for sending me my Donovan McNabb Redskins jersey. I cannot wait. I'm a little disturbed because I'm pulling for Michael Vick, but I always have said that Donovan never has gotten the respect he deserves in Philadelphia and before Michael Vick got into the game I did not know that. But I'm wearing my Donovan McNabb jersey and I can't wait till Sunday at 4:15 Eastern.
Do you know how stupid it is for you to wear that jersey this weekend?
I can't be a Donovan McNabb fan because I'm in Philadelphia? I've got to be an Eagles fan? (Host: You were never a Redskins fan correct?) You're right. I'm a Donovan McNabb fan. (Host: But it's Philadelphia.) Are you telling me no other fans can wear a jersey in the Linc? (Host: You don't wear that jersey to this stadium in a rivalry game.) Is that one of the Ten Commandments right behind thou shall not kill? I can be a fan for who I wanna be. (Host: You know you're gonna get abused right?) Well, I'm not worried about that. When they win the game, I'm gonna get the last laugh too. (Host: When who wins the game?) When the Redskins win the game.
On why the Redskins will win:
It's called karma. It's called karma Howard. Donovan has never been treated good and it's karma. The football gods are going to rise up and this is going to get the Redskins season started.
G/O Media may get a commission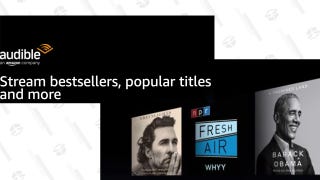 FREE
Audible Premium Plus 3-Month Free Trial
On whether or not he thinks the fans should cheer McNabb:
You know what I would love to see the Eagles to do, the first time Donovan McNabb comes into the game, call a timeout and let him get the standing ovation that he so richly deserves. Then after that they can boo the guy and I understand that. They should do something to give the guy the standing ovation he deserves when the game gets started Howard.
On why there is a debate about cheering or booing McNabb:
What is the debate about giving the guy who is clearly the greatest quarterback in Eagles history. Clearly, not even close. He's probably one of the five best players in Eagles history. I've been in Philadelphia since 1984 and trust me he's head and shoulders above every player. Can you believe we're actually having a debate about what kind of reception one of the five greatest players in Eagles history is going to get?

This post, written by Chris Fedor, appears courtesy of Sports Radio Interviews. For the complete highlights of the interview, as well as audio, click here.

More From Sports Radio Interviews
• Derek Lowe Is Pitching Like It's That One Year Derek Lowe Pitched Well
• Adam Wainwright Points To Stats, Says Team Isn't A Bunch Of Quitters
• NFLPA: Are You Ready For Some Lockout?