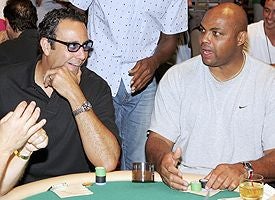 We imagine that a night of gambling with Charles Barkley must be a lot like the scene in Casino where Nicky Santoro is losing at blackjack; very little tipping, and at some point Don Rickles ends up being savagely pummeled. Sunday was an exception though, as Barkley announced that he won $700,000 in Las Vegas betting on the Super Bowl and playing blackjack.
"That was all profit (from) blackjack and I bet on the Super Bowl. I had the Colts," Barkley said in an interview with Phoenix television station KTVK. "I played a lot of blackjack."
That's the good news. Now for the punch line:
Barkley also said Monday that he lost $2.5 million "in a six-hour period" one night last year. "It's a stupid, bad habit. I have a problem," Barkley said. "But the problem is when you can't afford it. I can afford to gamble. I didn't kill myself when I lost two and half million dollars ... I like to gamble and I'm not going to quit."
Barkley's legendary gambling Jones has been previously documented, of course. But $2.5 million over a six-hour span is a little hard to fathom. Especially for us, whose idea of Casino Night is putting on pants and taking our loose change to Coinstar.
Barkley Says He Won $700,000 In Las Vegas [MSNBC]
Barkley Sees Your Concern, And Raises $10,000 [Deadspin]