Ed Reed threw some shade at Charlie Batch, who was far from elite but at least outplayed Joe Flacco in the Steelers' win in Baltimore. But no one was expecting greatness. Batch just gave more of what he's offered these past 10 years as Pittsburgh's backup (or third-string) quarterback: a steady, capable option under center, who'll give you a chance to win at least some of the games he's forced into starting. You can't ask for much more.
He's really old, though. Batch turns 38 on Wednesday, making him the same age as long-gone signal callers like Jake Plummer, Danny Wuerffel, and Jake Delhomme. For a sense of perspective, Batch's main safety valve as a rookie was throwing dump passes to a running back named Barry Sanders.
1998 was Sanders's last year in the league, and Batch's first. After setting nearly every passing record at Eastern Michigan, he became an instant local favorite when he was drafted by the Lions in the second round. After two games, Scott Mitchell couldn't get it done, so the Lions turned the reins over to Batch. And in his second career start—a Monday night game against the Buccaneers—Batch recorded his first win, thanks in large part to Sanders.
This, despite Tampa Bay explicitly promising they were going to force Batch to beat them.
"I think we're going to have to [focus on Sanders]," Tony Dungy said. "The focus is always Barry Sanders when you play them, and we've got to really do a good job on him and not let him get going. If we can get ahead of them, get in a mode like Minnesota was, where once they got up now you're just turning everything you've got loose at the quarterback, it's going to be tough on a rookie quarterback - whether it's Charlie Batch or Ryan Leaf. Peyton Manning, the same thing.
"So we've really got to concentrate on Barry and make sure that we don't let him get going, and then make the quarterback throw."
G/O Media may get a commission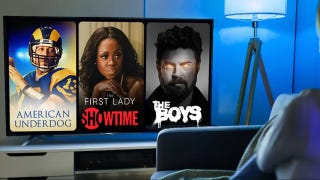 UNDER $1
99¢ Prime Video Channels
It didn't matter. Watch some of the Batch-to-Sanders highlights above (all taken from this YouTube video); even an inexperienced QB and a prepared defense couldn't stop Sanders from doing his thing. Sanders rushed 27 times and put up 175 all-purpose yards, while Batch went 14-for-23 for 115 yards. Batch added his first career score, running for a one-yard touchdown, as the Lions won 27-6.
Sanders would unexpectedly retire after the season, and Detroit's run game went in the tank. In response, Batch was asked to become more of a running quarterback than he was comfortable being, and that led directly to a series of injuries. He missed multiple games each of his remaining three years in Detroit, and wasn't re-signed after the 2001 season.
The hybrid style he had adopted served him well—he was signed to the Steelers by GM Kevin Colbert, who had scouted and drafted him for the Lions. He was the ideal backup to then-Pittsburgh QB Kordell Stewart—if "Slash" went down, Batch could enter as a scrambling QB without the team missing a beat.
Stewart's gone, as are Tommy Maddox and Dennis Dixon, but Batch remains. Ben Roethlisberger's stand-up style of play is different, but he's just as prone to injury—in 2005, when Roethlisberger went down midseason, Batch stepped in and went 2-0. In a year in which 10-6 wasn't good enough to make the AFC playoffs, the Steelers finished 11-5 and went on to win Super Bowl XL.
If the season ended today, the Steelers would be the sixth seed. Roethlisberger is still questionable to return next week against San Diego. Once again, it's up to Charlie Batch. And maybe Redman/Dwyer/Mendenhall aren't Barry Sanders, but after 14 years in the league, Batch has learned how to make it work with the tools he's given.