To aid in your Deadspin HOF ballot decisions, Kenny Shirley and Carlos Scheidegger of AT&T Labs have created a great interactive graph for exploring the voting trajectories of all 1,000-plus players/managers ever to be candidates for the Hall. The screencap above might make it look a little dense, but it's a very powerful tool that's pretty easy to use once you start playing with it.
Here's the HOF voting for every player with 400+ home runs, which used to make you a lock:
Every player who compiled at least 60 WAR. That sad dot in the bottom left is Bill Dahlen.
G/O Media may get a commission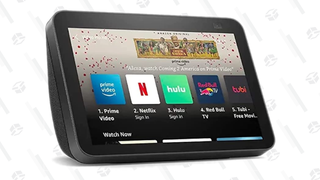 And every player who appeared on the ballot the maximum 15 times; only Dazzy Vance and Jim Rice ever hit 75 percent in their final year:
You can actually scroll over these players on the interactive version, and there are plenty more breakdowns to play with. You should go check it out.