While no one could seriously argue that José Mourinho didn't earn today's firing because of his team's god-awful performances this season, it would be similarly disingenuous to paint the coach himself as the sole cause of this inexplicable confluence of events. The club's technical director, naturally, takes up basically this exact position in the video above where he explains the club's decision making.
Here's how Michael Emenalo responded to a question about why Chelsea made this move now, where he confirms that the reported rift between Mourinho and his players was accurate:
Whilst there is huge sentiment for the individual [Mourinho] who has done so much for the club, the fact of the matter remains that Chelsea Football Club is in trouble. The results are not good. There obviously seems to be palpable discord between manager and players and we feel it was time to act.
Emenalo is later asked a question about the hand the players themselves—who, don't forget, have almost to a man (save Willian) been terrible all year—have had in the team's form. In his mind, blame there clearly lies more on Mourinho's side than the players'.
I think the same people need to remember that this is essentially the same group of players who won the league and the league cup last season. And they did it in style, and they did it by showing commitment, and by sweating tears and blood for the club when needed.
They played to instruction. They adhered to everything that the manager asked them to do. So i think it's very easy to make that kind of inference, but it's not one that the club accepts.
G/O Media may get a commission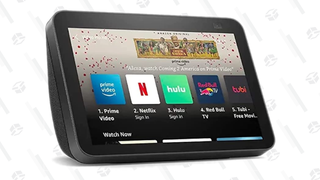 These statements are pretty wild. Because the move has already been made and for such obviously justifiable reasons, there's no need to apportion blame like this so publicly, especially when it's not accurate. Mourinho had to have played a significant role in what's happened this season so far, but you can't discount the culpability of the players—who, as Mourinho has rightly pointed out, look completely different this year. Just as this is the same squad that won the league last season, Mourinho is the same manager who led them to that success and has won all the trophies he's amassed in his career. If anyone's track record speaks louder than their current form, its Mourinho's, not the players'.
The thing is, the club itself probably doesn't buy their own argument here. In reality, this is a perfectly rational calculus every big club that falls on hard times must make. Things weren't going well. The manager and multiple, big-name players apparently had beef. Something needed to change.
One option would be for the club to side with the manager. Had they taken that route, Chelsea would have to begin the process of swiftly getting rid of a large chunk of their roster by finding buyers for the players Mourinho no longer got along with, trying to elicit transfer fees commensurate with the players' true value even when clubs knew the players were unhappy and wanted out ASAP, and trying to find an equal number of new players that were as talented as the departing ones and could reasonably be obtained. Not exactly a simple proposition.
The other option would be siding with the players, as they've done here. In that case, all they had to do was fire a single man and maybe his staff, eat the money owed on his contract (and there are varying reports that Chelsea could be on the hook to Mourinho for as little as £10 million or as much as £40 million), and look for one of the many coaches who, all things being equal, would love to a sizeable pay bump to coach a roster that remains very young and talented with the promise of a considerable transfer budget. Suffice it to say, this option is way less risky and work-intensive than the other.
The danger here is how often this very scenario rears its head at Chelsea. Because owner Roman Abramovich has never offered his unwavering support to a manager, not even one with as much cachet as Mourinho, Chelsea have acquired the reputation of being a players' club. If you're a star there and you don't like the manager's leadership, just run to the directors box and tell Abramovich and *POOF* the manager's gone.
While that is appealing to players, it's much less so for potential managers. Who wants to manage a club where an upset player or two can get you canned at a moment's notice? Will players commit to your challenging vision when they know they can dog it for a few weeks and get a new coach who's less demanding? Concerns like this are bound to affect the judgment whomever Chelsea approach for the job, and could very well cause them to miss out on top-class managers like Pep Guardiola and Diego Simeone.
Like in most every professional sport, players are more valuable than coaches. This is how it should be, and is probably the biggest reason why Mourinho is out of a job rather than Diego Costa being on the transfer list, regardless of what Emenalo has to say. But if Chelsea continue to show that they don't value managers at all, they'll have a hard time convincing the next manager of Mourinho's caliber that theirs is the club to join.