All José Mourinho knows about Chelsea's completely baffling, stunningly terrible season is that it's not his fault. The bad times rolled on today when league-leading (!!!!!) Leicester City came in and smashed up on the reigning champions, who currently sit one point above the relegation zone (!!!!!).
In his post-match comments, Mourinho seemed curiously at ease in his bewilderment, fully confident that nothing he himself had done should've warranted his club's collapse, aware that, in his mind, most of the blame lay with the players, and yet still confused how a team that at this time a year ago was already scheduling their Premier League victory parade has gone from that to one that has lost over half of its games.
Here are a sampling of his statements. On why Chelsea looked so unprepared out there:
"I know one of my best qualities is to read the game for my players, is to read the opponent, is to identify every detail about the opponent. And these two goals ... are two goals very difficult to accept, a big frustration to accept. Because it's like, I feel that my work was betrayed, if that's the right word."
G/O Media may get a commission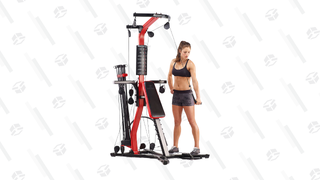 31% Off
Bowflex PR3000 Home Gym
On why Chelsea struggled going forward:
"It's difficult for us to score goals when you have some players that are not in their best level and it's obvious and everybody knows that. And when you have some players, especially in some crucial positions, that they don't go to the normal level is difficult."
On the difference from last year to this one:
"All last season I did the phenomenal work that I brought them to a level that is not their level, is more than they really are. Or, this season we are doing so bad that the players are for some reason—I'm not saying all of them, of course, I don't want to put some of them in the same basket—but clearly, with some of them it's so difficult."
On Eden Hazard's injury, which saw him substituted about a half hour in:
"I don't know, the only thing I know is that in 10 seconds he made the decision himself. So it must be a serious injury."

[...]

"His first reaction was that I can't, and I was going to make the change. His second reaction was 'I want to try.' And when he goes on the pitch, the first step ,and immediately says 'I can't do it.' So it was him, in a few seconds that had three different perspectives but clearly he can't do it."
On any ideas he has to finally turn things around:
"Well, uh, I don't know another way than to work at the top level, which is what I do everyday. And again I have to be honest and say that, day by day in training, I have no complaints with the players."
On whether Chelsea's top four hopes have been dashed:
"Yes. Clearly, yes."
These post-game pressers of his are becoming appointment viewing.