Every morning, the fine folks at Sports Radio Interviews sift through the a.m. drive-time chatter to bring you the best interviews with coaches, players, and personalities across the sports landscape. Today: the lineman and player rep's reservations about crank-calling the commish.
Chester Pitts joined KJR in Seattle with Mitch in the Morning to talk about this little comedic skit that he and Raheem Brock put together, whether or not he is going to be back in Seattle this season or if he's a free agent, how the people at Comedy Central got in contact with him of all people, and if he feels a little concerned about referring to Roger Goodell as a "douche" in the skit.
Whether or not he is going to be going to Vegas and taking his comedy act with him:
"I don't think our talent levels are indicative of a stage that great. We just literally had a little fun and for some reason it's huge. It's all over everywhere, every blog you can think of, and the thing got so many retweets. It's kinda funny because 95 percent of the people said it was hilarious, funny, way to bring levity to the situation, but I did an interview yesterday with a reporter that was kinda upset about it and I had to explain to him to relax. I was simply bringing levity to the situation. I was not minimizing the issues. I may have been poking at the insincerity of the league, the owners, or Roger himself, but by no means was I trying to minimize the issues or everything that's going on. I go to all the hearings. I participate and stand up strong for the players. I was just having a little fun. For that five percent that was mad at me I wasn't trying to upset you, but the 95 percent that thought it was hilarious you guys are alright with me because that's what I was aiming for."
On the status of his contract right now:
"No I only signed a one-year deal with the Seattle. When the case gets settled and a new league year begins I will be a free agent, I will hit the market, and it will be that process."
How Comedy Central contacted him of all people to do the skit:
"I'm just being real. I mean look at me. I block for a living and I don't even get to touch the ball. Nothing that I do on the football field is sexy. They knew that I would have fun with it, they knew that I wasn't camera shy, I would open up, and try to have fun. I've done some things along the way, but Raheem (Brock) and I have the same publicist down in LA. I guess somebody from Comedy Central contacted her and asked if she had any guys that were going to be in New York at the time for the PA parties and the Rookie debut. That's how it worked out. Raheem and I, we have never worked together, never done any film or TV together, we just kinda perused the script and we were like okay turn on the camera, let it rip, and let's have some fun. The producers and the guys at the 12 Angry Mascots, they're hilarious. He just wrote it. All he said was that he basically looked at the top 25 to 50 articles that have been written about the lockout and the whole deal and he said I made my jokes and I wrote it based on it."
G/O Media may get a commission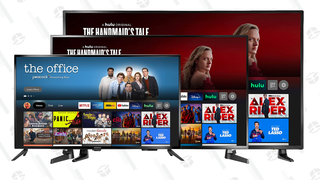 Up to 44% off
Prime Early Access - Insignia Fire TVs
Whether or not he is concerned about being find for calling Commissioner Goodell a "douche" in the video:
"I will be honest with you, it was one of those where I was like are you sure it's going to fly and they were like it's going to be fine. (Host: Who said it?) At this moment in time I can't recall exactly. I'm not 100 percent sure at this moment. I will do some digging and get back to you. At the time I wasn't thinking about Roger fining me or whatever, but it will be uphill sledding to do it. Hey if he does it, he does it. It's not like I got arrested for selling 50 kilos of some crazy product. We were just having fun. We're locked out right now. Give me a break. I bet you if I was in the weight room working out for whatever team I was playing for, hopefully Seattle but we will see, then I probably wouldn't have had time to shoot it."
This post, written by Chris Fedor, appears courtesy of Sports Radio Interviews. For the complete highlights of the interview, as well as audio, click here.
More from Sports Radio Interviews
• Jeff Francoeur still thinks Citi Field's a crappy ballpark.
• Casey Matthews is in limbo.
• Quick, read this Chipper Jones interview before he breaks down again.