It was reasonable to assume that the Dolphins parted with Brandon Marshall, for a discount price, to make Peyton Manning happy. It's the same sort of roster-baiting the Titans are engaging in with their very public courtship of guard Steve Hutchison. But things can have, like, more than one reason, man. Like Marshall being accused of punching a lady outside a Manhattan club early Sunday morning.
According to the New York Post, Marshall and another unidentified football player were ejected from Marquee, which I cannot believe is still open. A woman celebrating her 24th birthday got involved in the continued argument on the sidewalk, and claims she took a punch from Marshall. It's not clear if she was the target or just caught in the crossfire. The woman says she suffered a black eye, and filed a police report the next day.
Marshall's lawyer quickly issued a statement:
"While at the function a fight broke out NOT involving Mr. Marshall or his friends. While attempting to leave to avoid the melee Mrs. Marshall was struck in the face by a thrown bottle. She suffered serious injury. While attempting to leave and take his wife to the hospital, the mayhem continued outside. Finally Mr. Marshall was able to take his wife to the hospital where she was treated for serious injuries. Mr. Marshall is hoping to assist authorities in regards to this matter."
G/O Media may get a commission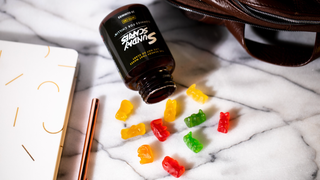 10mg CBD Gummies (22-Count)
It is not exactly the outright denial the Bears probably would have liked to see, but at least they weren't caught by surprise: Chicago announced they were aware of the incident when they traded two third-round picks for him yesterday. It's the age-old tradeoff for teams dealing with Marshall. Does his preternatural ability to catch a football outweigh his preternatural penchant for finding trouble? Have you seen the Bears' receivers? Their answer is an unqualified yes.