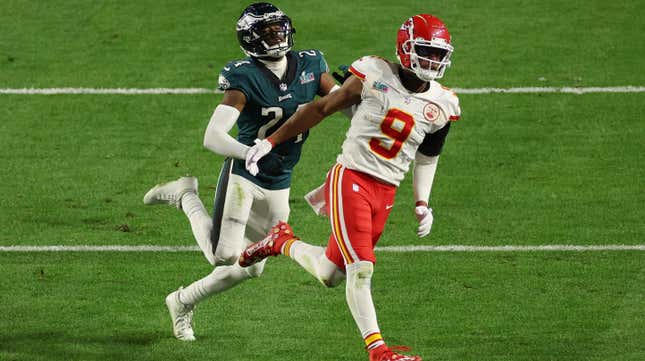 Juju Smith-Schuster did not enter the NFL with the goal of being a role player. His sophomore season at Southern California, he hauled in 89 passes for 1,454 yards and 10 touchdowns on a disappointing 8-6 team. The next season, the Trojans went 10-3 and won the Rose Bowl. His yards and receptions totals were not as high as they were the previous years but he still caught 10 touchdowns.
Which NFL Bros reign supreme? Watt or Kelce?
Seven years after his final collegiate season in Los Angeles, Smith-Schuster's career was going in the wrong direction when the Chiefs signed him prior to the 2022 season. Smith-Schuster did not perform in recent years as he did at USC or early in his NFL career, but the passes he hauled in during Sunday's Super Bowl proved crucial to the Chiefs' second-half push to win Super Bowl LVII.

A promising early career
Smith-Schuster was considered a special athlete when the Pittsburgh Steelers selected him in the second round of the 2017 NFL Draft. At first, he was everything that the wide-receiver factory wanted in a player.

During his rookie season, he averaged 15.8 yards per reception and caught seven touchdown passes. Smith-Schuster didn't even turn 21 years old until Week 12 of the 2017 season, and was taught how to drive by teammate Alejandro Villanueva. Still, Smith-Schuster was a significant contributor to the Steelers' offense. The following season he caught 111 passes for 1,426 yards, leading the Steelers in both categories while Antonio Brown was still dependable until the final week of that season.

The Steelers were through with Brown when they traded him to the then-Oakland Raiders in 2019, so Smith-Schuster was supposed to assume the role as their No. 1. That is when injuries began to affect his career.

A history of unfortunate injuries
In both 2017 and 2018, Smith-Schuster scored touchdowns on 97-yard plays, in which he did the overwhelming majority of the work. At 215 pounds, that kind of playmaker is supposed to be a perennial All-Pro. In 2019 he went into concussion protocol, but a knee injury would also begin to hamper him. He played every game in 2020 but averaged less than nine yards per reception.

Three years after totaling 1,400-plus receiving yards, he signed a one-year deal with the Steelers for one-year $8 million in 2021. That season he only played in five games due to a shoulder injury. Prior to the 2022 season, Smith signed a one-year $10.75 million with the Chiefs that guaranteed him less than $3 million.

Injury cost Smith-Schuster three games in 2022, but he still totaled 933 receiving yards on 12 yards per catch — his highest average since 2019. Then late in Sunday's Super Bowl, Patrick Mahomes used Smith-Schuster as a go-to receiver to pull out the victory.

Of the seven passes that Smith-Schuster caught in the game, four of them came in the fourth quarter. The first three plays of that quarter, Smith-Schuster caught three consecutive passes, totaling 30 yards and two of those catches went for first downs. His final contribution? Eagles' defensive back James Bradberry getting called for a holding Smith-Schuster on the Chiefs' final drive.

Maybe Smith-Schuster will never take a pass 90-plus yards to the house ever again. It's unfortunate to say that about a 26-year-old, but this season was the first in which his longest reception went for more than 31 yards since 2019.

Regardless of what happens with the rest of Smith-Schuster's career, he proved that he can tilt the biggest game in the sport if his number is called.