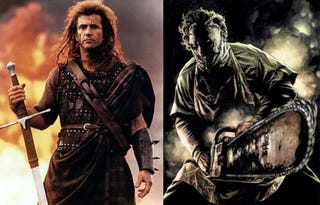 Soccer is different in Britain. Over there, you show me a red card, I go home and get my sword. Or chainsaw or whatever's handy.
Today we learned about this. In a Senior Cup match in South Yorkshire, a player was ejected, went home and returned with a sword and a golf club, ready for mayhem. Do you wield those simultaneously, or is one a backup? Ha. No wonder William Wallace was eventually captured.
Spectators at the local cup match in Barnsley, South Yorkshire saw the sent-off player return with a "golf club and a long sword". The Sheffield and Hallamshire Senior Cup match between Royston Villa and Sheffield's Mosborough was called off in the 80th minute. A Mosborough FC spokesman said: "One of their lads got sent off and came back and had weapons and that's why it got abandoned.
And then last week we had this, which is totally awesome.
Anthony Lloyd, 20, was ordered off the park pitch for foul language but returned with a running power tool and tried to chop the hands off rival Paul Westwood while yelling: "I'm a crank." Prosecutor Laura Plant told the court: "They heard an engine start and saw the defendant coming out of the bushes revving a chainsaw. "The victim's friend ran off, leaving him cornered by the defendant."
Again, no one was injured in that assault. What's next, the Holy Hand Grenade?
Football Match Stopped After Ejected Player Returns To Field With Sword [Telegraph.co.uk]
Footballer Tackles Opponent With Chainsaw [Telegraph.co.uk]