Holy shit. We thought that the Internet Crimes Against Children's investigation of Chris Andersen was put to rest when his attorneys revealed to the Denver Post that Andersen had been extorted by the mother of an underage California woman who had a relationship with Andersen. Now, Andersen's attorneys have released another statement, claiming that Andersen was in fact the victim of some kind of crazy-ass catfishing scheme.
Sports Illustrated has the full story, but here's the breakdown: According to Andersen's attorney, a Canadian woman named Shelly Lynn Chartier has been impersonating Andersen online in order to foster relationships with other people. Apparently, the underage woman in California whose mother allegedly extorted Andersen was actually one of Chartier's victims. Furthermore, Andersen's attorneys believe that it was Chartier, posing as the California woman's mother, who tried to extort Andersen.
According to his attorneys, Andersen did indeed have a sexual relationship with the woman in California, but it was Chartier who initially orchestrated their relationship. From Sports Illustrated:
Posing as Andersen, the Canadian woman allegedly orchestrated the initial tryst between the player and the California woman. She then began communicating and corresponding with the woman from California. At one point, representing herself as Andersen, the imposter began making demands—some of them, sources say, sexually explicit—of the California woman.

The woman believed that it was Andersen making the demands and felt increasingly threatened. Eventually she went to the authorities. The sexually suggestive threats triggered the investigation of the Internet Crimes Against Children unit. When Douglas County Sheriff's office executed its search warrant on Andersen's home in Larkspur, Colorado, 40 miles south of Denver, police took his computer and other electronic equipment.
G/O Media may get a commission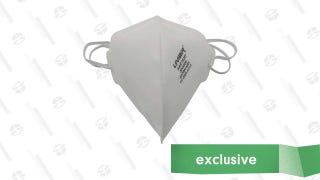 NIOSH CDC-Certified N95 Masks (10-Pack)
How was Chartier able to pull this off? Apparently, she managed to gain complete access to Andersen's phone, social media accounts, email, and bank records. According to investigators, Andersen was just one of Chartier's victims, and it is possible that she ran similar scams on other athletes.
If this all turns out to be true, then Chartier was on some next-level catfishing. It's one thing to impersonate an athlete in order to fuck with a 17-year-old girl or pretend to be a 17-year-old girl in order to fuck with an athlete, but it's another thing entirely to orchestrate a relationship between the two like a goddamn puppeteer. I desperately want to know what this woman's motive was. Ronaiah Tuiasosopo ain't got shit on this.
The 18th Judicial District Court in Colorado is currently reviewing over 4,000 pages of documents that were amassed during the investigation, and a spokesperson told SI that the court does not plan on bringing any charges against Andersen.
[SI]