ESPN's Chris Berman was the commencement speaker at Connecticut's Greenwich High School last Friday, and it was baaaaad. So bad that the crowd actually started cheering during his apparently endless speech, hoping to drown him out and urge him off the stage, according to five people in attendance.
Jokic? Embiid? The NBA MVP is obvious... right? | Keep it a Buck(et)
"It was honestly the most random speech I've ever heard in my life," said one graduate whom we'll call Julie.
"It was the worst speech at the graduation—it had no point and it kept going on," said her friend, another grad, whom we'll call Molly.
They were hardly alone. First, let's start with some sample tweets from the occasion:
Pretty sure Chris Berman forgot to come up with a speech hahaha #wingingit

— Eric Kropp (@ekropp1) June 21, 2013
Pretty sure he was drunk too #lt

— Eric Kropp (@ekropp1) June 21, 2013
Lol @ Greenwich High thinking Chris Berman would be a sick commencement speaker. An hour and 45 mins later he's trying to find his point

— Erica Ambrogio (@Erica_Ambro) June 21, 2013
Chris Berman rumblin, bumblin, stumblin through his GHS commencement speech... http://t.co/CoHfonWxYv

— Ryan Fazio (@ryanfazio) June 22, 2013
If your interested, Chris Berman is still giving his graduation speech. He'll be in the stadium all night.

— Emily Carroll (@emilycarroll715) June 22, 2013
The speech was bad from the get-go. "He started off his speech about how he worked at a toll booth and then it kind of went nowhere," Molly said. "He kept going back to when he was young, and I guess that was the whole point of the speech. It was 30 minutes of going on about nothing."
G/O Media may get a commission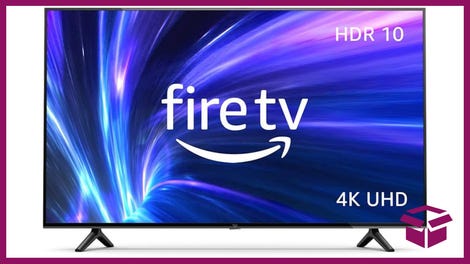 42% Off
Amazon Fire TV 50" 4K Smart TV
Eric Kropp, who was attending his sister's graduation, wrote in an email: "I remember one of the stories was about him working at a toll booth when he was younger (had no relevance to anything he was talking about 2 minutes earlier)."
Kropp is a huge football fan, so he was "pretty psyched" about Berman's speech. And then it started to suck.
"Basically the whole thing just seemed like he wasn't sure what to even say," he emailed. "We noticed he didn't have any notes with him (if he did he didn't look at them once). I'm not sure how long he was on to be honest, it seemed like a really long time but it was realistically like 30 minutes or so probably."

Said Ryan, who was there to see his little brother graduate (and who asked us to leave out his last name): "He didn't prepare for it. It was long and it was rambling. I'm not sure if it was 45 minutes—it felt like it was longer. I remember I kept looking at my phone for the time as it went on and on."

That's when everyone started to tune out.
"By the end of the speech he was difficult to hear," Ryan told me in an email, "as everyone in the stands was talking among themselves and ignoring him."

And then they got fed up.
"Also, when he said 'one final story' towards the end of his speech," Ryan wrote, "the crowd erupted in cheers."
Said Julie: "He tried to go with another story but my parents told me that, like, people in the crowd tried to get him off by clapping and blowing air horns. They wanted him to get off the stage, so they started to cheer more. But I don't think he heard it."

The Greenwich Times relayed just one quote from the speech. If this was the only suitable quote for the paper, it's safe to say the speech was as bad as advertised:
"Don't have tunnel vision," the longtime ESPN anchor told the graduates. "Take some odd courses ... I took a course in Hitchcock films — now that's some scary stuff, actually. I took a course in probability. I actually wanted to see if there was some formula at the racetrack whereby mathematics you could actually win, and the answer is no."
But maybe Boomer was just having a really good time!
"I remember my uncle saying he thought he was drunk, and my friend thought the same thing," said Kropp.
"I honestly thought he was drunk, but he probably wasn't drunk?" Julie said. "But that could have been an awesome reason why the speech was so bad."
But no hard feelings—at least not on Julie's part.
"Everyone knew it was a shitty speech," she said, "but it was nice for him to come."
The only thing that's missing is the full video for the speech. Have a copy somewhere? Email me.