Four years ago today, Washington agreed to send three first-round picks and a second-rounder to St. Louis for the right to move up to draft Robert Griffin III. Today, Griffin is a free agent, and the man the Skins selected on the third day of that draft is their QB and set to make $20 million.
"From the moment Kirk was drafted," said longtime TE Chris Cooley, "I think Robert had animosity towards him. A lot of people in this area hated that fourth-round pick; I don't think anyone hated it as much as RGIII hated it."
Cooley, comfortably ensconced in his second career as "Guy Who's Always on the Radio and Often Saying Bad Things About RGIII," spent most of Monday going on the radio and saying bad things about RGIII.
Dan Steinberg, the Washington Post's Guy Who Transcribes Cooley Saying Bad Things About RGIII, has written up this latest round, and it's all really, really good and you should go read it. In the meantime I'll just be Guy Who Aggregates Steinberg Transcribing Cooley Saying Bad Things About RGIII.
"The offensive line did not like Robert Griffin," Cooley said. "A lot of the receivers did not like Robert Griffin. The offensive line had a problem with Robert, because they were considered for a year-and-a-half or two years a terrible offensive line that couldn't protect a quarterback. A lot of that isn't true. A lot of that was Robert. A lot of the sacks were put on Robert. Want to believe it or not, they were, okay? Football-wise, they were: it was Robert.

"Robert never took [responsibility] for that," Cooley said. "Robert continued to let his offensive line eat the blame. They don't like it. They hate that, man. That kills them. Perception is the only thing an offensive line has, because 99 percent of people watching football have no idea what an offensive line's doing.

"Receivers didn't like playing with Robert, because they didn't get the ball," Cooley said. "It was never consistent, other than a couple in 2012; they struggled with that. So they didn't like Robert."
Oh yeah, that's the good stuff, hook it directly to my vein.
There's seriously a whole lot here, especially on Griffin's frosty relationship with Cousins. You get the feeling Cooley's been saving up for the first day RGIII was officially off the team.
G/O Media may get a commission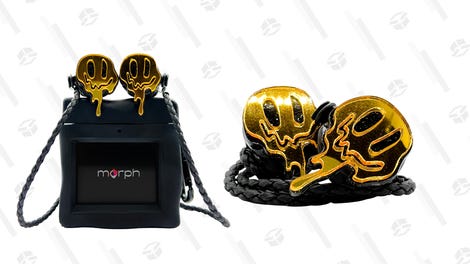 morph audio
Morph Earphones
---
Contact the author at barryp@deadspin.com.