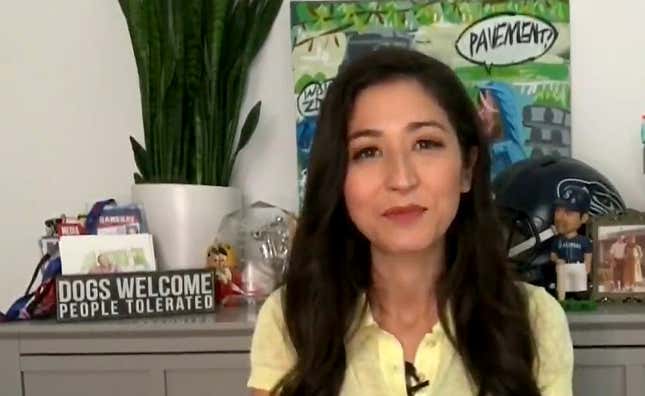 Update (March 23): Chris Curtis opened the Greg Hill Show on Thursday to announce his own suspension. He also once again claimed he meant to say "Mila Kunis" instead of "Mina Kimes." Curtis will be sidelined for a week, according to the Boston Globe's Chad Finn. 
Air Jordans are more American than McDonald's French fries | Deon Cole's Ultimate Sports Fantasy
---
Radio is a tough gig. There are hours worth of segments to fill, and on slow news days, lots of time for extemporaneously blabbering about nothing — and that's when things can go off the rails. That's exactly what happened with WEEI Radio's The Greg Hill Show on Wednesday. During a segment on their "top five nips", the hosts were discussing several types of hard liquor. The topic was seemingly flowing smoothly until producer Chris Curtis came in off the top rope and interjected by saying, "I'd probably go Mina Kimes."

Not only was it hold-your-nose comedy, because it stank so badly that nobody laughed at it, but his weak attempt at humor was also an ethnic slur. For those unaware, "Nip" is a racial slur for a Japanese person, while Mina Kimes is of Korean descent. It takes some deep investment into Asian slurs to have that one sitting in your mental bank, and even worse judgment to test it out on air.
In an attempt to mitigate the blowback, Curtis pinned his derogatory joke on a mix-up. WEEI corporate told the Boston Globe's Chad Finn that Curtis flubbed the joke by conflating "Mina Kimes" with "Mila Kunis."
It's rare you get an apology that makes things worse, but Curtis actually dipped his toe in feces twice. Slips of the tongue happen from time to time, but even the explanation boggles the mind. I'm still trying to ascertain the meaning of the joke behind the excuse WEEI and Curtis spent all morning trying to conjure up — seemingly an ill-conceived attempt at wordplay on "nip" as in "nipple"? But that seems like a stretch. It was really stupid.
To highlight the absurdity of Curtis' excuse, Mina Kimes changed her Twitter profile pic to a headshot of Mila Kunis.
Mina Kimes appears to be taking this all in stride, but something tells me Mila Kunis is going to be confused the next time she logs onto Twitter.