When it became clear late in the third set that American Tennys Sandgren was probably going to lose his Australian Open quarterfinal match to South Korean 20-year-old Hyeon Chung, ESPN commentators Chris Fowler and Patrick McEnroe decided it was the time for a perfunctory discussion of how Sandgren used his public Twitter account to support a slew of alt-right trolls, endorse nutso right-wing conspiracy theories, and toss around discriminatory language. Let's see how the guys in the booth handled it:
Fowler: [He's been] thrust in the spotlight, it's been a tough learning curve for him. He gave a very thoughtful interview to Chris McKendry on our set, because, Patrick, when you start winning matches—instant celebrity means scrutiny of your social media, your beliefs, and getting questioned about that.
Okay, scrutiny does follow celebrity, but the guy who believed in "spirit cooking" is thoughtful?
McEnroe: And he's taken some heat for that and he should, because some of the things he's put out there are, you know, unacceptable. Forget about the politics and all that but taking shots at Serena, for example, I mean that's just not cool at all.
Deserves heat, unacceptable, okay, I'm with you—wait, forget about politics? This guy thinks Marxism is worse than genocide...
Fowler: We'll leave the politics aside. He's thoughtful about that, he tried to defend some of the retweets and some of the people that he follows on Twitter, but that aside, you don't take shots at Serena on Twitter.
G/O Media may get a commission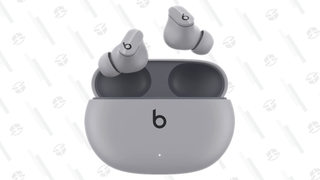 You know, Serena Williams will be fine; in fact, she already handled it.
Why don't you talk about Sandgren's apparent affection for Mike Cernovich, Nicholas Fuentes, and Alex Jones? Or about what he thinks about black people and Muslims? Or what he has against people who are transgender?
McEnroe: No, you gotta be smart. And you gotta own up to it.
Uh.
Fowler: He did delete all of his tweets and he wants, in his words, a fresh start in that department. But he's a thoughtful guy and if you want to characterize people with labels, clickbait headlines, I'd caution you to just be a little bit careful and get to know something more about somebody.
Let me characterize you with a label, Chris, you smarmy old knob!
Fowler: People want to label very quickly without much insight or research.
Sort of like what Tennys did when he labeled Hillary Clinton as the architect of a child molestation ring based out of a Washington D.C. pizza joint?