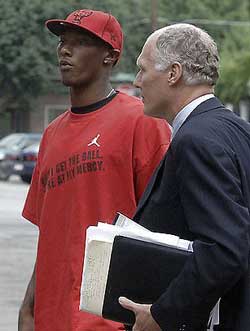 OK. Are you sitting down? We feel like you should be sitting down. It's probably for the best if you're sitting down. Take a deep breath. Have a brandy. You ready? Cool. Here goes.
We're not sure how to say this, so we're just gonna come right out with it: Bengals wide receiver Chris Henry is in trouble again. Fortunately, this one's no big deal: Just the random, unsolicited beating of a 16-year-old boy.
Police say the 16-year-old and an 18-year-old friend were walking along Wetherington Boulevard near Mt. Zion Road just after 11 p.m. Friday night when, they say a black Navigator or Escalade pulled up next to them. According to the police report, a white male jumped out and started punching the 16-year-old in the face. "From that, the victim tells us another gentleman got out of the vehicle the same vehicle and in their attempt to get away, was shoved to the ground by this African American gentleman."

The teen identified that man as Bengals receiver Chris Henry, and says receiver Reggie McNeill was also in the vehicle. The teen also alleges that they were throwing beer bottles at him as he tried to run away. "Go away, we don't want to talk to you."
Henry, of course, is already serving an eight-game suspension for, you know, his other four arrests. We're not sure where "throwing beer bottles at a minor" falls on NFL commissioner Roger Goodell offense chart ... but it has to be around the "depantsing nuns" level. We wouldn't hold your breath to see Chris Henry playing football again anytime soon.
Assault Accusation Against Bengals' Chris Henry [WCPO]
(UPDATE: A source says this might not have happened, by the way. Worth noting.)