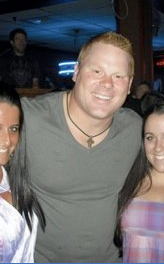 From last Friday's "Deadspin Deleted Scenes:" It appears the reader who wrote in about the Bucs' lineman's alleged late night conquest was mistaken. Shocker. That's what Chris Hovan's wife, Jaimi, told BucStats.com.
From Mrs. Hovan:
chris took that picture with those girls when we stepped out of our private party area to get a water and beer! anyhow… we are happily married, kids are great, the article quote still stand and thanks again for calling the asshole who wrote that lie out! chris and jaimi
And there you go. Is Mrs. Hovan's email real? Who knows. We could be here for days. The Deleted Scenes rabbit hole is dark and deep.
Straight From The Hovan's Mouth [Bucstats.com]