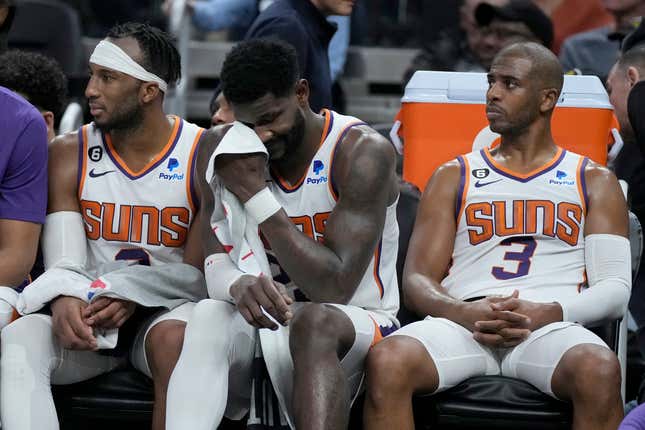 On Wednesday evening, Bleacher Report insider Chris Haynes' report that the Suns were prepared to waive point guard Chris Paul before a June 28 deadline which would guarantee his entire $30 million salary for the next season triggered a fury of interest in the 38-year-old. Shams Charania and Adrian Wojnarowski later followed up Haynes' report with context that made it sound like Paul could return next season, but the tea leaves are signaling Paul's exit.
Chris Paul should ride the bench next season | Keep it a Buck(et)
Chris Paul should ride the bench next season | Keep it a Buck(et)
A year ago, Paul was the second-oldest player to lead the league in assists and the Suns owned the NBA's best record. This season, he reached new depths in scoring and his efficiency plummeted to levels not seen since his final, injury-riddled season in Houston.
Can Chris Paul still help a contender? | Agree to Disagree
Paul staved off vegetable mode after a diet and a new lease on his career revitalized him after he was traded from the Rockets in 2019. Unfortunately, the chances of a second bounce-back campaign during a season in which he'll turn 39 is a pipe dream. CP3's May-December partnership with Devin Booker saw him become a third wheel to Booker and Kevin Durant once KD came aboard. Paul maxed out his abilities, but time has caught up to him.
Paul was never a mutant athlete. He's a quick, but stocky, diminutive, and cerebral playmaker at his best. In his mid-30s he has become more cantankerous than ever, but balanced out his moodiness with wisdom and an antediluvian midrange game. However, the cork is off the Vino-Paul era.
Paul can still generate offense through his Einstein-level basketball IQ and offensive puppeteering, but his body is breaking down quicker than toilet-fermented prison wine. If Paul is indeed turning up the bass on his title-chasing, he shouldn't be a full-time starter. The early frontrunner for Paul's services are the Lakers and Clippers. By reuniting with his banana crewmate LeBron James, the Lakers would have the league's top Street Clothes All-Star trio.
In 2023, James missed nearly 30 games and Davis sat for over two dozen, including a series of bruises and bumps that sent him to the locker room wincing in pain three times a week. Despite his postseason struggles, D'Angelo Russell back is a superior player at this phase of his career.
Could CP3 finish out his career in Miami?

Ironically, Miami was on the short list of teams with whom Paul shared a mutual interest the last time he was team-hunting, but the Thunder, Paul, and Heat's negotiations stalled out. Who knows how differently recent playoff history would have played out if Paul was a component within that testy Heat locker room? Maybe he'd find kindred spirits within Heat Cult-ure. Or he would have developed animus towards Butler just as he has before with James Harden, Blake Griffin, Doc Rivers, and DeAndre Ayton. There is no in-between.
In place of Paul, the Heat traded for 35-year-old Kyle Lowry during the summer of 2021 and inked him to an $85 million contract that they already regret. Toward the end of this season, Lowry was benched for Gabe Vincent. How much Paul can contribute to a contender is an offseason conundrum for interested general managers to consider, but the Heat are one team who won't have room for Paul in a crowded backcourt. His tempo-paralyzing brand of floor generaling at his advanced age isn't worth the risk of paralyzing their offensive continuity.
If Paul has indeed entered the title-chasing portion of his career, his path could lead him back to a desperate ClipperLand, but the idea of adding a Fabergé egg to a Kawhi Leonard and Paul George feels like entrusting a bull to managing a china shop. Clippers president Lawrence Frank just made this mistake with an injury-prone John Wall, and they've bought stock in Russell Westbrook. Doubling down on Paul would be a drunken mistake. Relocating Boston isn't happening unless they want to make Paul the first player-coach since Dave Cowens and demote Joe Mazzulla to assistant coach. The Celtics are more likely to tinker with a younger true point guard to stabilize their offense in ways Malcolm Brogdon and Marcus Smart couldn't.
Paul's best shot to start? Memphis could be in the market for a mentor and temporary starter while Ja Morant is on leave, but Tyus Jones is a reliable backup and it's doubtful that Paul is mentally prepared to embark on the mentoring stage of his career.
Paul is one of the nonpareil point guards in league history when healthy, but his Hall of Fame peers don't reflect. John Stockton started three seasons between the ages of 38 and 40. He set the gold standard by playing in all 82 games three times, averaging double-digit points, and distributing more assists than any player after his age-37 season. However, Stockton's 11 and 8 is the absolute peak. Paul's injury woes are a factor in his limited production.
Could CP3 follow in Steve Nash's footsteps?

If Paul accepts an offer from the Lakers, the final years of his 30s may closely resemble another Phoenix point guard who pursued a title in L.A. a decade ago. During his final season in Phoenix in 2012, Nash played 62 games, logged more than a dozen points per night, and became the oldest player to lead the league in assists at the age of 37. By the time Nash suited up for L.A. in 2013, he was plagued by a back injury, averaging fewer than seven assists and 13 points per contest. In his final season, Nash played sparingly.
Paul is also 500 assists from surpassing Jason Kidd for second place all time. Catching Kidd is doable if he could match his production and play approximately 70 games, but if his gifts continue to evaporate at the pace a 38-year-old Kidd's did, the bar may have to be lowered.
Kidd started only 48 games the year after he played a pivotal role in Dallas' surprising championship run, saw his minutes drastically cut, his assist-to-turnover ratio hit rock bottom, and his shooting percentages went into a freefall. Sound like anyone? There's not a single instance of a point guard of Paul's stature making a positive impact during their age-38 season. Paul's resurgence is less likely. If anything, he's likely to stumble even further down the cliff.
Michael Jordan averaging 20 points and five helpers during his inaugural season as a Washington Wizard is the gold standard for a guard at age 38 or above.
In that context, the Phoenix Suns cutting bait makes sense and interested teams should approach with caution. At nearly every stop in his career, Paul has been the franchise savior. The team that signs him next, should regard him as a backup plan and nothing more.
---
Follow DJ Dunson on Twitter: @cerebralsportex