Take a good look at Chris Paul's face. Have you ever in your life seen a more distraught person? This is the face of a man who fucked up big time, and is painfully aware of just how badly he fucked up.
A quick recap of Chris Paul's performance in the last 49 seconds of Game 5:
Hits a 17-foot jumper that makes the score 104-97, sticking what appeared to be a giant dagger into the chest of the Thunder.
With 13 seconds left and his team up by two, Paul anticipates the intentional foul from Russell Westbrook in the backcourt, but for some reason—for some goddamn reason—decides to leap into the air and try to bait Westbrook into a shooting foul. Westbrook promptly strips him and dishes it to Reggie Jackson, who has the ball (maybe) knocked out of bounds by Matt Barnes.
After the ensuing inbounds pass, Westbrook shoots a contested three over Paul, who fouls him. Westbrook sinks all three free throws.
Now down by one with six seconds remaining, Paul probes his way into the lane, looking for space to get off a potential game-winner. He loses the handle, and Serge Ibaka grabs the loose ball. Game over.
That is just an absolutely brutal sequence of basketball for one player to endure, let alone one who has played so brilliantly throughout this series. After the game, Paul called those last 49 seconds the "Toughest thing I've ever been through, basketballwise."
It's almost always dumb to blame a loss on one single player, but it's also very rare to see one guy cram so much failure into such a short period of time. Chris Paul (almost) singlehandedly took his team from up seven with 49 seconds to play to down one with two big fat zeroes showing on the clock. It's fair to question the foul call on Westbrook's three, or the out-of-bounds call on Barnes, but none of those things happen if Paul just accepts the intentional foul on the previous possession instead of trying steal three free throws in the backcourt.
G/O Media may get a commission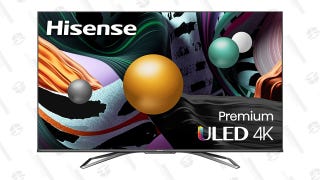 Save $350
Hisense ULED 65" Android 4K HDR Smart TV
Paul now finds himself in a bit of a rare position. He is once again on the verge of not making it out of the second round of the playoffs, but in the past that recurring feat that has been forgiven due to his being saddled with sub-par teammates and coaches. But this Clippers team is the best he's ever been on, and if they can't pull out two more games against the Thunder, everyone is going to remember Paul's failings from last night, and they won't be wrong to do so.
Top image via @cjzero