Last night, pitching against the Yankees, Chris Sale struck out Brendan Ryan on a diving change-up that had Ryan so far out in front and swinging so hard that his bat flew out of his hands, helicoptering across the infield and landing near the lip of the grass. On the next pitch, Sale threw pretty much the same thing, and Zoilo Almonte swung at it so hard his helmet flew off. I'm not even sure either one was his best pitch of the night; in the fourth, he struck out Derek Jeter on a slider that left him standing on home plate.
A lot of players around right now seem capable of violating various laws of physics, but none of them are quite as much fun to watch as Sale is when he's on. A line like last night's is sexy enough as a sequence of numbers—six innings, 10 strikeouts, one hit, no walks, no runs—but the whole joy of the thing is in the performance, in flirting with a perfect game for a while or in striking out five in a row or just in making various Yankees look downright foolish in a way even lousy major league hitters very rarely do.
Adding to the thrill was that this was Sale's first start in a month after a stint on the disabled list with a slightly mysterious strain in his left elbow. It seems like something's about to snap with every pitch he throws, so that everyone's always ready for Sale to just stop working, and it can make his starts extended anxiety exercises. Don't enjoy this too much, because it can't last. Here, though, he came out and struck out the side in two of the first three innings, hitting 96 mph as easily as he did 81 and mixing his pitches so that the hitters were cheating on fastballs that weren't actually coming. From his first pitch it was the kind of work that makes you understand what Willie Stargell meant when he said that trying to hit Sandy Koufax was like drinking coffee with a fork, and in all it was the sort of thing that makes you just not worry.
Chris Sale is too unlikely to be real, and maybe too much so to last, but he can take a crowd full of Yankees fans who turned up from who knows where and people out mainly to see one of Derek Jeter's final four games on the South Side and make them audibly gasp. There are a lot of great shows running in baseball right now; for my money, this one's the best.
G/O Media may get a commission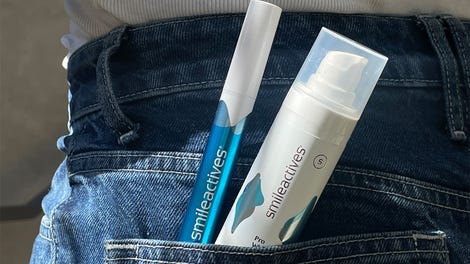 58% off
Whitening Powerhouse Pen & Gel Duo
Photo via Getty