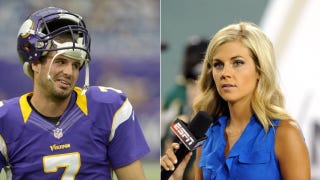 Early September-ish: Vikings QB Christian Ponder meets ESPN blonde lady Samantha Steele at a filming of College GameDay. Despite both having jobs that regularly take them around the country, they found time to start a relationship.
Mid-October: Ponder confirms they're dating. Ponder continues to struggle with the Vikings, but insists Steele's not the reason why.
Early December: The two get engaged. Ponder proposes by spelling out "Marry Me" in Christmas lights.
Monday: Ponder and Steele wed in a Wisconsin courtroom.
This is sports love in the 21st century. Sincere congratulations to Ponder and Steele. We hear January's a good month for honeymoons—neither will have much going on.