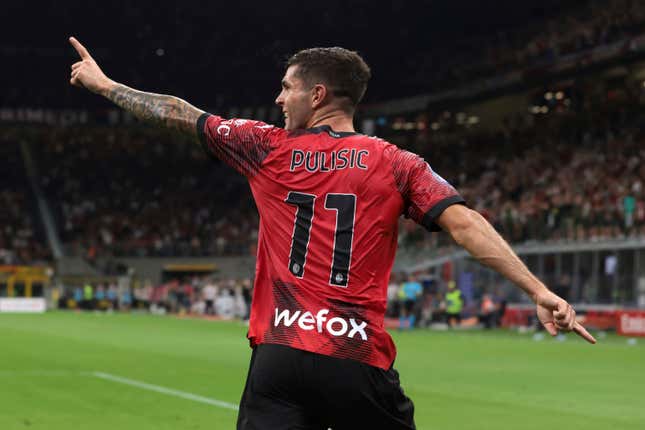 If you've found yourself lost on soccer Twitter the past week, and it is a haven for the truly wayward as we've all had our brains addled by too many pre-dawn wakeups and day beers, you've probably seen a lot of "Pulisic is so back!" tweets and hashtags. Whether Pulisic is actually "back" is another debate, as it's not like he's coming back from a major injury or something. He was hurt a lot, and when he wasn't he was kinda shit for a basketcase team at Chelsea, and maybe that's enough of a condition to have a "return" from.
Christian Pulisic calls out lackluster attendance at USMNT friendly
What can be stated is that the version of Pulisic that is playing with a swagger and a smile has certainly returned to our screens, at least through two games with AC Milan. It started on Monday when he scored this scorcher:
And then yesterday in his home debut at the San Siro he scored one that's a little farther down the difficulty scale:
Certainly the Milan radio team are enjoying it:
While the finish is as simple as it gets, it does showcase Pulisic's ability to be in the right spot at the right time, something we hadn't seen since his first season at Chelsea. For a player who mostly plays on the wings, Pulisic has always had a knack for popping up in space in the box. It's easy to forget he did have nine goals his first season in England in only 19 starts.
Perhaps most encouraging for USMNT fans is that in Milan's first two games, Pulisic has flashed two different styles. In the opener away to Bologna, Pulisic was much more of a straight right-winger in Milan's front three. With Davide Calabria moving infield a lot from right back, it basically gave Pulisic the entire right side to play in. Against Torino, Pulisic was playing in a way we're much more familiar with, only using the right side as a launchpad to bounce all over the field and combine with his partners in the front line. Pulisic has landed in kind of a sweetheart spot, in that the right-sided midfielder in Milan's new 4-3-3 is Ruben Loftus-Cheek, a former teammate at Chelsea, and the central striker is Olivier Giroud, another former teammate at Chelsea. The fact that he's combined with both for both of his goals is a clear indication of how much they already have a baseline with each other.
The next two games should be a better indication of just how life is going for Captain America, as Milan will travel to Roma and then the derby against Inter after the international break. That international break will also be a fun study, as not only is it Gregg Berhalter's return but how will he treat Pulisic's new home on the right side? That's where Tim Weah has lived with Pulisic on the left. Weah is playing something of a right wing-back with Juve so far, which the USMNT doesn't use. It's probably too early in the season for the national team to be adjusting to Pulisic's new position, and Gio Reyna needs to actually get on the field this season to complete the set for Berhalter.
Those are questions for another day. For now it's probably best to just rejoice that the US's best player is enjoying life again. Certainly USMNT fans have waited a long time to see that again.
Follow Sam on Twitter @Felsgate and on Bluesky @Felsgate.bsky.social.