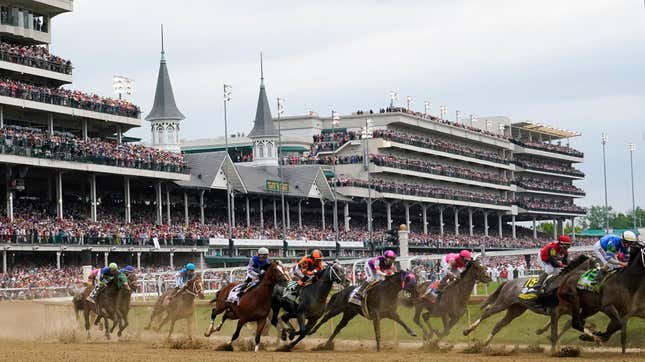 One of the rebuttals to Churchill Downs' suspension of horse racing after this weekend was that officials couldn't find proof of the venue's role in the dozen horses who've died there this year. While that logic comes off like an amusement park owner saying "Nothing to see here" as kids get launched out of the Tilt-O-Whirl, the Kentucky Horsemen's Benevolent and Protective Association is right.
This Is What Made Rich Strike's Victory So Incredible
I agree, Rick. There's no guarantee a move to the Churchill Downs-owned Ellis Park, Ky., location will prevent more deaths and euthanizations. That's why the only move is to halt racing at all tracks until the sport figures out a way to significantly reduce, ideally eliminate, the heap of corpses left at the end of each season.
It's impossible to find a definitive number of equine casualties per year for obvious reasons. An objective study of the sport would go over as poorly as if scientists were able to examine social media, or the Second Amendment, and we all know why none of those will ever be conducted.
"Follow the money" isn't simply advice Jodie Foster gives Denzel Washington in Inside Man, or that Deepthroat shouts at Robert Redford in All the President's Men. It's the scariest phrase a politician can hear, and likely frightens the shit out of more people in positions of power than the most cynical of Americans could imagine.
The changes announced by Churchill Downs and the Horseracing Integrity and Safety Authority to deter trainers from running unsound horses are a start. Top five finishers will only be paid out, instead of the entire field. They introduced ineligibility standards for poor performance, meaning animals who've been beaten by more than 12 lengths in five consecutive starts will need to be cleared by the equine medical director in order to race. Also, the number of rolling starts over an eight-week period will be capped at four.
It's just very revealing that you have to disincentivize trainers from endangering horses.
Money makes the horsies go 'round
There's no proof of this next statement either, but I'd surmise the scepter wielded by sportsbooks is increasingly weighty and diamond laden as more states legalize betting, and you should be able to pick up what I'm saying since horse racing is synonymous with gambling. The sport is too lucrative and too far gone to be truly regulated.
This was clear in Hiles' comments about Churchill Downs' decision, when he added, "We need to discuss allowing trainers and veterinarians to use therapeutic medications that greatly lessen the risk of breakdowns."
It sounds like the only things the Kentucky Horsemen are benevolent and protective of are their own pockets. "Therapeutic medications that greatly lessen the risk of breakdowns?" While we're at it, why don't we splice their DNA with a rhino, or cybernetically reinforce their legs? These animals are shot up with more syringes than late-stage Kurt Cobain, and your solution is to give them more? Are you fucking insane? This is 2023; technology is supposed to advance society, not double down on its evilest ideations.
I'm not going to speculate as to why thoroughbreds are seemingly more fragile these days, and I have no interest in asking horse Twitter for their conspiracies. (But you're free to, if you dare.)
Churchill Downs is making a very savvy, shrewd business move, and are getting the desired PR reaction. Deadline said the venue is "shutting down" in its headline, but don't be fooled. It's not being razed as I so jokingly suggested in my last diatribe. This is a temporary move done with good intentions up until it jeopardizes the 150th running of the Kentucky Derby next May.