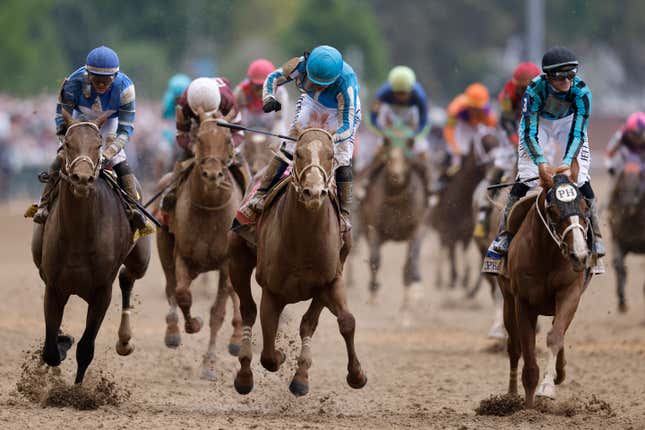 Horse racing regulatory and safety officials, along with representatives from Churchill Downs, are holding an emergency meeting today in response to two more horse deaths at the famed track in Louisville, Ky. this spring. The reason I'm writing this before the actual meet-and-greet is that nothing is going to come of the now 12 dead animals.
This Is What Made Rich Strike's Victory So Incredible
Calling my shot here and saying the 150th edition of the Kentucky Derby will carry on next year as if nothing happened. There will likely be an obligatory piece about how the sport and Churchill Downs are making it safer, but unless a bulldozer razes the grandstand, nothing is really going to change.
I'm honestly having a difficult time trying to say anything smart or nuanced about this "emergency meeting" because my views haven't shifted since the Derby (nor did I have any misconceptions before the race). The only reaction this post is going to provoke is a lecture from horse racing fans about how there's more to it than whipping an animal into a sprint. (Cut to a guy in a fedora making a condescending joke about the Breeder's Cup.)
A possible solution
Do you remember the bit in Inglourious Basterds when Brad Pitt carves a swastika into Christoph Waltz's forehead? Of course, you do. It was one of the few things that's aged well from any Quentin Tarantino movie, and I'm all for publicly and permanently shaming horse trainers and venues like they're the Third Reich.
So, what I was thinking with horse racing is any time an animal dies under a trainer's watch, they have to tattoo a horse corpse on their forehead. It can be cartoonish with exed-out eyes and the tongue hanging out of the mouth, or a realistic homage to The Godfather.
I don't care what it looks like as long as it's visible. The same should be applied to venues. Maybe have an incident counter since the last dead horse, or spray paint upside-down horses on the side of the building somewhere.
I wish people draped themselves in pastels out of deference for the animals who've sacrificed their lives so Gary and Shirley could play dress up and day drink. We romanticize the ponies as if it's still 1918 and motherfuckers are dying from polio.
Horse racing is a gross pastime that should make your skin crawl like you wandered into an off-track betting establishment on a Tuesday afternoon, and I think my face tattooing initiative would bring it in line with the 21st century.