Because no one reads the newspaper, and SportsCenter's anchors are too perky for this early in the morning, Deadspin combs the best of the broadsheets and internets to bring you everything you need to know to start your day.
• The lights came up on Cigar Guy after last call and what were we left with? Rupesh Shingadia, 30, investment analyst in London, lives at home with mum and dad, costumed himself as tribute to Spanish golfer Spanish golfer Miguel Angel Jimenez. F, M, K? [Daily Mail] (H/T Last Angry Fan)
• Former Chicago Cub Mike Remlinger has sat on Sammy Sosa's corked bat for long enough. So, now he's auctioning it off to the highest bidder.
The bat barrel, in which cork is visible, was authenticated by Remlinger and PSA/DNA Authentication Services, and could bring in excess of $10,000. Bidding was still at the starting price of $750 late Friday.
Remlinger now works in the emerging field of life coaching. ...
"I did try contacting Sammy about it last year to see if he wanted it back," says Remlinger. "His personal assistant said Sammy was interested in getting it back, and he'd get in touch with me, but I never heard from him. [Chicago Tribune]
Narc. (H/T Tomuban)
• Cocks. [The State]
G/O Media may get a commission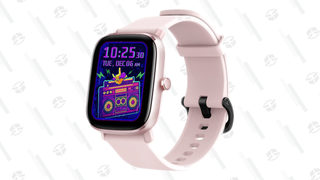 20% Off
Amazfit GTS 2 Mini Smart Watch
Get fit
Has built-in Alexa so you can ask questions and carry your smart assistant around with you; it has a battery that can last up to 14 days, has over 70 different sport modes, is 5ATM waterproof, and tracks stats like your heart rate, calories burned, sleep, and more.
• Now that Florida Guy's gone 0-2, gotta figure Mississippi State hopes he dresses his stripper gal pal up like a stripper again next week. [ESPN.com]
• Yankees advance. [NY Post]
• Red Sox fans left to debate whether their team should try to pick up Carl Crawford or Jayson Werth. [Boston Herald]
• And the great East Potomac Park Baseball Card Hunt is on! [TBD.com]
• Headline of the day: "Tebow doesn't concern Ravens." [Baltimore Sun]
• My favorite part of the Football Supporters' Federation's reimagining of the London Underground map? Freddie Shepherd's Bush. [The Spoiler]
• The United States tied Poland in an international friendly last night in Chicago. [FoxSoccer]
• Danica Patrick crashed. [Los Angeles Times]
• Here's an excerpt of an email from somebody named Coby from something called "Dude Perfect" ...
We will be releasing by far our greatest work yet, one that took place in an iconic American football stadium just a few days ago. ... Often we debut our newest videos on the CBS Early Show or Late Night Television shows such as Jimmy Kimmel. In this instance, we would love for you to consider being the web's first writer to cover the story on behalf of Deadspin. We think you will greatly enjoy the video and will find plenty interesting to comment on.
If you choose to cover the story, all we ask is that you embed our YouTube video and refrain from using any other version of the video that may circulate over the course of the weekend's news coverage. Our footage is copyrighted material and must not be used outside our guidelines.

Gosh, sorry I didn't jump at this sooner. Anybody have another version of this for me to post yet?
• And, finally, from the "Hickey's Biased" coverage files … It's Hamels Night in Cincinnati. For the record, I maintain his season has been just as impressive as Halladay's, but for the perfect game and playoff no-hitter and all [Philadelphia Inquirer]. I still miss Brian Dawkins in Philly [Denver Post].
****
Happy 10/10/10, Deadspin nation.