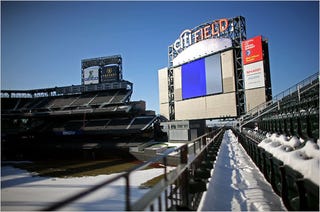 The New York Times gives us a look inside of City Field today, so take your time and enjoy the photos. It's the closest many of us will ever get to actually being there.
Chief operating officer Jeff Wilpon took the press on a tour of the Mets' new home on Tuesday, and there was plenty to delight the senses. The New York Times has dubbed it "the Anti-Shea," and looking at these photos it's easy to see why.
Citi Field has many nooks and crannies that are nothing like Shea's tired symmetry. The grandstand that hangs over right field, for instance, was inspired by the old Tiger Stadium, which Wilpon visited with his grandparents as a child. Fans in center field will get a bull's-eye view of the bullpens, with Aaron Heilman only in the visitors' half, which is on a slightly raised level, with some protection from fan saliva.
OK, that's a confusing paragraph. Ticket prices are not as mysterious; you're going to need a loan to attend a game, and you're not going to get one from CitiBank. It's $40 to $50 to sit in the best outfield seats, upper deck boxes run around $75, and it goes up from there. $100 to $275 for field level seats. God knows what hot dogs are going for.
And they've only got a couple of weeks to get rid f that snow: First game is March 29, a college matchup between Georgetown and St. John's.
Photo: New York Times
Dark Cloud Over City Field [The Sporting News]
Mets' New Home Is The 'Anti-Shea' [New York Times]