On Jan. 7, 1993, Kevan Brumfield was one of two men who gunned down Baton Rouge police Cpl. Betty Smothers. The mother of six, including then 18-year-old Warrick Dunn, was working an off-duty security job, escorting a grocery store manager to make a bank deposit. Brumfield was sentenced to death two years later.
But after the U.S. Supreme Court ruled in 2002 that executions of the intellectually disabled are "cruel and unusual punishments," Brumfield requested a hearing to prove that he should be spared for that reason. His request was denied, and the legal argument over if he deserved such a hearing eventually reached the highest court this year.
Brumfield won his appeal on Thursday, with the Supreme Court ruling 5-4 that he should get an Atkins hearing. The dissent was led by Justice Clarence Thomas, who wrote a lengthy rebuttal that at times addressed the law but also spent a good portion calling bullshit on Brumfield for claiming during his trial that actions were the product of his disadvantaged background. Part of his proof—the life story of Dunn. Here is what Thomas wrote, with the citations removed.
Brumfield's argument that his actions were the product of his disadvantaged background is striking in light of the conduct of Corporal Smothers' children following her murder. Most widely known is that of Warrick. Though he had turned 18 just two days before Brumfield murdered his mother, he quickly stepped into the role of father figure to his younger siblings. In his view, it "was up to [him] to make sure that everybody grew up to be somebody."

To that end, Warrick led by example, becoming a star running back at Florida State University and then in the National Football League (NFL). During his time at Florida State, he set records on the field while coping with the loss of his mother. Though separated from his family in Louisiana, he called his brothers and sisters regularly, sought parenting advice from his coach, and returned home when he could. He kept his mother's pearl earrings, stained with her blood from the night she was murdered, in a box on his dresser. After four years at Florida State, Dunn was drafted by the Tampa Bay Buccaneers. Concerned that some of his siblings were struggling in Baton Rouge, he moved the three youngest into his home in Tampa Bay. Although the strain of playing for the Buccaneers and raising his family weighed on him, he "accepted it as [his] responsibility . . . to make sure they stayed on the right path." Ibid.
While balancing football and family, Dunn still found time for others. He started Homes for the Holidays, a charitable organization that decorates and fully furnishes—down to the toothbrush—homes obtained by single mothers through first-time homeowner assistance programs. Dunn was inspired by his own mother, who spent years working toward the purchase of a home for her family, but, thanks to Brumfield, did not live to reach her goal.

Dunn's contributions did not end there. After joining the Atlanta Falcons in 2002, he expanded the reach of Homes for the Holidays, traveled overseas to visit our Armed Forces, led an effort to raise money from the NFL to help respond to the tragic effects of Hurricane Katrina, and became a founding member of Athletes for Hope, an organization dedicated to helping athletes find and pursue charitable opportunities. Following his retirement from professional football in 2008, Dunn launched two more charitable organizations in honor of his mother: Betty's Hope, a mobile bereavement program that offers no-cost grief counseling services to children in the Baton Rouge area, and Homes for Service, a program dedicated to helping service members, police officers, and firefighters achieve home ownership. As Dunn once remarked, "I knew that was what my mother would have been most proud of: not my records, not my awards, but the way I used my worldly success to give something back."
It's worth noting that, though powerful, Dunn's life story doesn't address the question of law at hand (did Brumfield have the right to an Atkins hearing). The majority opinion, penned by Justice Sonia Sotomayor, addressed Thomas's emotional digression.
Finally, we offer a few additional words in response to JUSTICE THOMAS' dissent. We do not deny that Brumfield's crimes were terrible, causing untold pain for the victims and their families. But we are called upon today to resolve a different issue. There has already been one death that society rightly condemns. The question here is whether Brumfield cleared AEDPA's procedural hurdles, and was thus entitled to a hearing to show that he so lacked the capacity for self-determination that it would violate the Eighth Amendment to permit the State to impose the "law's most severe sentence," Hall, 572 U. S., at ___ (slip op., at 7), and take his life as well. That question, and that question alone, we answer in the affirmative.
G/O Media may get a commission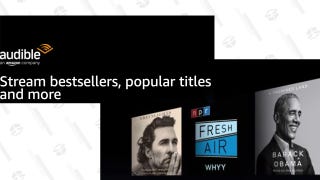 FREE
Audible Premium Plus 3-Month Free Trial
The three other dissenting justices, Chief Justice John Roberts, Justice Antonin Scalia, and Justice Samuel Alito, also made clear they didn't agree with the Warrick Dunn portion. In a very short dissent, Alito (joined by Roberts) wrote that Dunn's struggle: "is inspiring and will serve a very beneficial purpose if widely read, but I do not want to suggest that it is essential to the legal analysis in this case."
The full Supreme Court opinion is below.
Image via Getty