Cuonzo Martin's 10-2 Missouri Tigers escaped an upset from Stephen F. Austin in Columbia Tuesday night, 82-81. By besting SFA coach Kyle Keller, Martin apparently believed he had earned the right to take over his entire team.
Martin gave a complimentary speech to the losers' locker room after the game, with permission from Keller. Martin said he had never done this before, but SFA—the team that had just lost a one-point game to a major opponent and now sat at 10-2—was so good that he had to say something. That's a nice sentiment, but maybe read the room.
"I know you're mad and upset guys, and you should be mad because you're a talented team," Martin says. "You should be pissed off, because you're on the same level."
Martin's been praised since this video came out, getting compliments ranging from "all class" to the milder but equally irritating "classy." But honestly, props to Keller and his team for not telling this dude to get lost. Martin might mean well, but Stephen F. Austin, while not at the level of Missouri, isn't some scrubby joke team that needs a pick-me-up. In the last four seasons, the Lumberjacks have made the NCAA Tournament more times than Martin has!
G/O Media may get a commission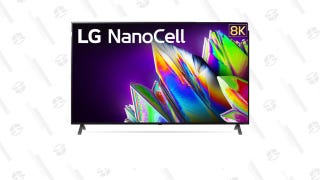 LG 75-Inch 8K TV
Brad Underwood and Illinois travel to Missouri on Saturday. Coach Underwood, if you lose, don't let this guy in your locker room.