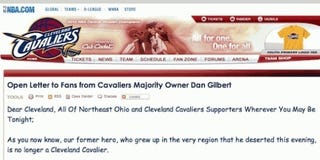 Dan Gilbert said today that he doesn't regret the open letter he posted for Cavs fans in July. Wise of him. Any middle school girl will allow that it's ill-advised to back down from hate letters written in Comic Sans.
Cleveland opened its season tonight and took advantage of a really wonderful (if fleeting) opportunity to have a better record than LeBron James' Heat by beating Boston, 95-87. Cavs owner Gilbert was on WKNR radio earlier today, and he answered a lot of questions about the various disparaging comments he wrote and said about James in the past few months. The summary? He meant it all. Well, he meant almost all of it.
On the public letter:
I don't regret it. That letter was to the fans and the supporters of the Cavaliers and it wasn't to the player that left, it wasn't to the rest of the world. It wasn't to anybody but them. I wanted them to understand not only how I felt but how everyone felt in the entire organization.
As for his comments to the AP that James quit on his team during the Boston series and the ensuing $100,000 fine from David Stern:
There are some of the things everybody has to make their own personal judgment on. It's a subjective judgment when you watch a game or watch a tape. You make those kinds of judgments. I'd rather not answer directly. I'd really rather not comment what my feelings are any more, but everybody has to make their own decisions on that.
Gilbert also skirted around that little personal guarantee he made—the one he wrote in bold, caps-lock Comic Sans that said that Cleveland would win an NBA title before James ever gets a ring.
"You never know," Gilbert said. "We'll see what happens."
So now he hedges. Luckily, the new Comic Sans Letters product on Gilbert's company, Fathead.com, ensures that we'll never forget: the (bold) prediction can now be the writing on your wall.
Gilbert has no regrets about James' comments [AP]
[H/T Elliot]