Denali is full of shit.

The Alaska mountain and the highest peak in North America, also known as Mt. McKinley, has a poop problem. Michael Loso, a glacier geologist, told the Associated Press that between 1951 and 2012, 36,000 mountaineers deposited 215,000 pounds of solid human waste onto the Kahiltna Glacier, the most popular route to the summit.
Since 2007, the National Park Service has required hikers to keep their poop off the mountain; most put it in biodegradable bags and toss it into crevasses in the glacier. But Loso told the AP that doesn't do much: The poop never fully degrades, and it could reappear downstream as a literal shit-stain on the otherwise-immaculate glacier.
"It's the same thing as when your dog poops in the yard all winter," Loso told Montana Untamed. "And I may not scientifically think it has all gone away, but, nonetheless, I'm always surprised in the spring when the poop is still there."
That site outlines the proposed new rules:
Under the proposed rule changes that were open to public comment, mountaineers on the West Buttress below Camp 4 (14,200 feet) will be required to cache their poop in biodegradable bags, haul it back to base camp on their descent and fly it back to Talkeetna. Higher on the mountain, they'll still be allowed to dispose of feces in a crevasse. The Park Service will mark a crevasse near Camp 4 that will be used for human waste disposal on the upper mountain.
G/O Media may get a commission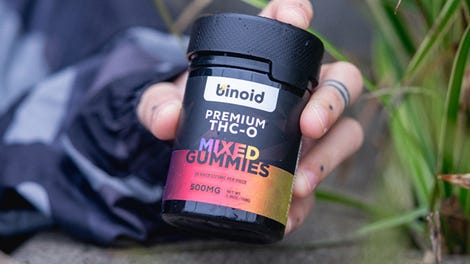 25% Off + Free Shipping
Binoid THC-O Gummies
Loso said the poop isn't really dangerous to anyone; it just makes the mountain look shitty.