His face has never changed.
Usually, when you're lucky enough to watch a generation-defining player for his entire career, you get to see him grow up. He starts out as a long-haired, eager kid running around with a big, goofy smile, and then gradually matures into an elder statesman. Maybe his hairline starts to recede, or his celebrations start to calm—there's usually some transformation, often evident to the eye, as a career progresses.
Clint Dempsey, though, has been so agelessly consistent that his career can't easily be divided by any noticeable changes. Even visually, he's looked unmistakably the same throughout his decade-plus as a fundamental part of American soccer. In every year since 2005, we've seen the same version of Clint score the same types of goals while clad in the red, white, and blue—often doing so on the sport's biggest stages. And last Saturday night against Costa Rica, playing in his home state of Texas, his late, perfectly bent free kick tied him with Landon Donovan as the all-time highest scoring USMNT player.
That last Dempsey goal was like so many others in his long career. Each time he puts the ball in the net, we see him run away from goal, almost glowering into an adoring crowd with focused, contained intensity.
True, there was a brief moment in time when the Dempsey who sped off toward the fans after scoring looked a little different, back when Rookie of the Year Clint's hair had him looking like a mediocre hard-rock band's bass player. But even in that photo, you could just as easily mistake that mop-headed 21-year-old for the current version of Dempsey in a wig. He still had the same scruff, and that same icy, intimidating stare.
G/O Media may get a commission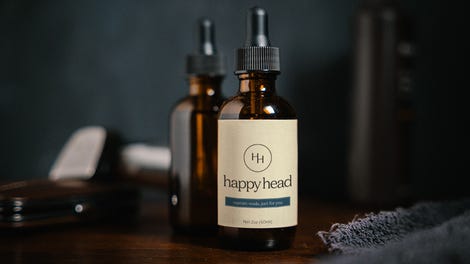 As hard as it is to date any particular photo of him, it's just as hard to predict the time when age will finally wear Dempsey down. Eventually, we have to assume, the point will come where he's no longer able to rack up the goals he's been scoring seemingly since time immemorial.
---
Every Clint Dempsey goal looks exactly like a Clint Dempsey goal. Almost always, there's traffic in front of the net. Sometimes, Dempsey has to masterfully weave through defenders to find space before letting off a perfectly placed strike. Often, he's right at the end of a cross from the wing, hoofing the ball into the net by any means necessary. Other times, the ball has taken some circuitous, zigzagging route into the box, and, inevitably, Clint somehow finds himself right where he needs to be to prod it over the goalline.
Dempsey's first-ever goal for the U.S., back in a 2005 friendly against England, was one of that last sort. A rebound off a Carlos Bocanegra attempt bounded directly toward Dempsey's head, and with perfect reactions he nodded it past the keeper. With his typical ferocious jubilation—and maybe a hint more energy excitement than usual because of the goal's significance to him—Dempsey jaunted over to the corner flag to celebrate. A timeless image in a career full of them.
But it wasn't until the following year when Dempsey truly made himself known to U.S. fans, when he was the lone American to score at the 2006 World Cup. It was a gorgeous though ultimately meaningless strike, as the onrushing Dempsey caught a DeMarcus Beasley cross as flush as possible and sent the ball screaming into the net. He capped the goal off with a neat little jig, too, and served as the only bright spot of that year's disappointing tournament. (The U.S. finished last in their group that summer.)
At that time, Clint was a young hotshot with the New England Revolution. Soon, he would move to England to join Fulham in the Premier League. Dempsey's first goal with the Cottagers saved them from relegation, a huge moment that augured well for his laudable spell in the world's best league. By the time he was done with in England, he had helped carry Fulham to a Europa League final and became the highest scoring American in Premier League history. His heroics with Fulham earned him a big (though eventually disappointing) transfer to Tottenham in 2012, and after a season there he returned to America, signing with the Seattle Sounders.
To many, that Sounders move and the reduced competition it would bring was a sign that Dempsey, at that point 30 years old, had accepted that the trajectory of his career was pointing downward. And while it is true that Dempsey is no longer making major waves on the club level like he was when his peers were Rooney and van Persie, on the international stage Deuce's importance and impact has only grown.
Dempsey was clearly a great scorer for the U.S. during the bulk of his career as a goal-scoring wide player. He nabbed key goals during the squad's Cinderella run at the 2009 Confederations Cup, including a quintessentially Dempsey finish on a loose ball six yards out that toppled the giants of Spain. A thumped shot and some terrible goalkeeping in the 2010 World Cup led to an English nightmare and a earned the USMNT a crucial point that helped the team top their group. Even in friendlies his interventions were big, like how his winner against Italy in 2012 asserted America's status as a growing force in international soccer.
Since 2014, as he's played less as a wide man and more as an out-and-out striker, Dempsey's contribution to the national team has really taken off. In 100 appearances from 2005-2013, Clint notched 36 goals, or 1 every 2.8 games. In 36 games since, he has scored 21 times, or once every 1.7 appearances. He had two huge moments at the World Cup in 2014—an electrifying opener against Ghana and the dramatic Crotch Goal versus Portugal. He notched seven goals in the following year's Gold Cup, and three more in 2016's Copa America. And now, just a single goal away, he's a veritable lock to claim sole ownership of USMNT's all-time scoring record before the year is up.
---
As inspiring as Dempsey's ascent from a soccer-loving kid in Nacogdoches, Texas to the summit of American soccer, his pro soccer career cannot be separated from the personal tragedy from which it grew. As a kid, the trailer park-dwelling Dempsey would take a six-hour round trip from Nacogdoches to go train with equally talented players in Dallas. But when he was 12, money forced Dempsey's parents to prioritize Clint's older sister Jennifer's tennis training over his soccer dreams.
A year later, however, 16-year-old Jennifer died from a brain aneurysm, and it was that terrible loss that made it possible for Clint to return to high-level youth soccer. Trying to explain the seemingly random tragedies of life is a pointless exercise, but the Dempsey family's loss does imbue Clint's triumph and continued excellence in the sport with, if nothing else, a sense of purpose that isn't implied in just any big-time athlete's career. When seen through this lens, each goal he scores, every crowd he brings to its feet, is a reminder of the preciousness of life.
I think Clint Dempsey will score tonight, in the Gold Cup final against Jamaica. I believe he'll get a goal, because that is the one constant thing I've learned to count on as a U.S. fan. Clint Dempsey will score. Admittedly, it's not the most ideal situation—they're not playing a big rival like Mexico, and the Gold Cup itself is a pretty low-stakes tournament—but this is still a big stage, and possibly the last opportunity for Clint to win his country a trophy.
As difficult as it is to accept, the USMNT very soon will be without Clint Dempsey. Even now, he's already starting to exchange his role as the team's focal point for one as a super-sub as his career enters its twilight. The next World Cup in 2018, when he'll be 35, will likely be his final one. But the role Dempsey has played on the team is almost impossible to replace. He has been a cold-blooded leader who forced his way into stardom through sheer, dogged determination. And while one day someone will almost certainly come in and unseat Dempsey from atop the USMNT goal chart, it's highly unlikely that this future talent will do so with the same tenacity, fearlessness, and intensity that has made Deuce such an icon.
Clint Dempsey has been such a uniquely thrilling spectacle, especially in the back half of his prime, because Dempsey's goals are not those of a preternaturally gifted striker. Rather, he is one who has struggled and had to fight for everything and every goal he's gotten his entire career. He rarely curves balls into the top corner with perfect swings of his leg, nor do you commonly see him slaloming his way past defenders and plinking the ball past keepers to cap off long, intricate solo goals. A Dempsey goal is an ugly, scruffy thing, one scored by unconventional means and celebrated with scowl instead a smile. He'll loft a ball over your head instead of beating you with pace. He'll stumble as a ball comes into him and yet flip it into the net anyway. He'll stand there right next to you, ready and able to pounce on your inevitable mistakes before you know they've even happened. He'll hit it through the freaking snow if he has to.
Clint Dempsey has been the one reliable player in a sport specifically designed for constant chaos. He'll find some way to score. Always.